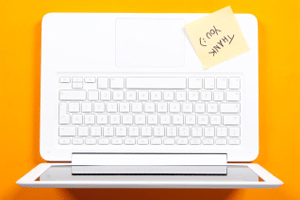 Greetings Technibble Readers!
My name is Chuck Romano and I am one of Technibble's newly hired "guns," aka content writers. I am currently a production manager at a software company, running a document conversion branch in its services division; I operate my own computer repair and IT service business; and I am a subject matter expert (SME) for CompTIA's new Healthcare IT credential, as well as serve on their SME Technical advisory committee (CSTAC).
I love to share my knowledge and experience and hope to enlighten you with article themes such as IT Security, healthcare IT, marketing, tools to run your business more efficiently, going "paper-less," and more. Now it's time to take a look at your business touchpoints and learn how to invigorate your marketing strategy!
What is a touchpoint? A touchpoint is any internal or external point of communication and /or interaction between people or companies. Email, telephone, blogs, advertising, and websites are all examples of touchpoints. It is easy to figure out the basic ones, but many times companies do not realize the many different touchpoints they have.

It's not just the large, well known and heavily financed parts of marketing, but many times the small mundane processes that you do everyday. Do you send faxes? That's a touchpoint. Do you invoice your customers? That's a touchpoint. Do you print receipts at point of sale? That's a touchpoint.
All three of those are usually mundane parts of your business that you probably don't think much about, besides making sure the fax machine works, confirming your billing numbers are correct and sent out on time, and replacing the receipt roll when it runs out. Pretty standard, boring business processes. However, these touchpoints can be powerful marketing tools by simply making them remarkable. What do I mean?
How about sticking a bright orange post-it note on your invoice that has a QR code linking to a page on your website, or perhaps a promotion for you customers? Sending a fax to hard drive vendor? How about writing a note on the fax telling them "my world just doesn't spin right without you!" or "thank you for keeping my world spinning!" What about receipts?
How about putting a coupon or QR code on them? Perhaps include a quote of some kind on the bottom of each receipt. The point here is to recognize each of your touchpoints and make them remarkable. You make them remarkable by thinking about what is expected, and then injecting something that is unexpected. The unexpected is remarkable, and will set you apart from other companies and brands.
Here are some action steps for you to consider
1. Analyze your business processes. What business processes do you have in place that connects with other people either internal or external? This is the first step to recognizing your touchpoints and potential marketing avenues.
2. Analyze your social network activity. This is an obvious touchpoint, however many people don't realize the marketing potential this has for your BRAND. You may have a personal Facebook page that is totally separate from your business, but you are still branding yourself, and it's difficult to separate yourself from your business. Build a poor personal brand, and your business brand will be fighting an uphill battle.
3. Assess how you present yourself. This continues on number 2 regarding your personal brand, but also pertains to how you present your business itself. People will brand you by how you present yourself and your business. Always think, "How am I presenting myself within this touchpoint?"
4. What are you going to do now? Obviously you are reading this article, but you can turn this into a touchpoint by leaving a comment. Commenting on articles, blogs, videos, etc, are major touchpoints. Leaving any kind of a comment will make an impact on those who read it, whether it be positive or negative.
Make sure you think about what you are posting because it will affect how you and your business are perceived. You can make or break potentially important (and revenue generating) relationships with simple comments, so think about what kind of touchpoint you want to make before hitting send. This also goes for email and any kind of written communication.
5. Think: "How can I make this remarkable?" Here I am asking you to consciously think about what you are doing when you are performing a certain task on your business. This can be while you are fixing a pc, typing up a proposal, doing accounting work, or typing an email. What can you do to make your customer smile? What can you do to make your proposal stand out from the many other proposals that your potential client is receiving (while maintaining professionalism)?
Do you send any of your accounting documents to another internal employee, or to an accountant for review? Do something unexpected. Not scandalous or superfluous, just unexpected. Change a font color. Put your logo on the spreadsheet. Think about the small things that you do, while you are doing them, and put your special mark on them. They will not go unnoticed and are simple, cost effective ways to build your brand.
6. Measure your results. Keep track of customers that give you feedback or comment on your new marketing initiatives. Track links and QR codes with a url shortener such as bit.ly. Certain tactics may be more difficult to track, but do your best. Find out what is working and build on it. Fail fast (and with little cost) on the implementations that aren't working, and use those to find out what will work.
There are many marketing opportunities within your business that have the potential to reach many prospects and cost very little to implement. Marketing your touchpoints will enable you to reach more people in many different ways while giving a unique feel to your brand. People will talk about the unexpected and innovative ways your company connects with them. That is what being remarkable is about.
The examples above may not work for you and what works for one may not work for another. You need to assess your touchpoints and figure out what unexpected things you can do to make them remarkable. This will take some guts and there is an element of risk involved, but the rewards of being remarkable are remarkable!