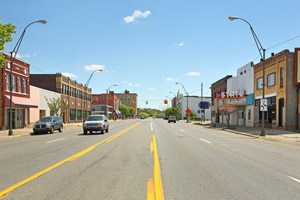 Guest Post by Adam Sewell:
Let me introduce myself. My name is Adam Sewell, and I run a technology services business in a small town of 20,000. MyGeek Computer Services has been around for a little over two years now, and I've had a hard time making my business known in the community, even though I grew up here. I found that marketing my business using conventional advertising methods was ineffective. Yellow Pages, Google Ads, Facebook ads, and other advertisements just didn't produce the results that I expected. After about a year of failed marketing attempts, I realized something important. My small town reacts differently to marketing compared to a large city. In this article, I will detail what I did, how I did it, and what proved successful.

As I mentioned, my small town has about 20,000 residents. The population is composed of ex-textile workers, small business owners, and a good selection of affluent individuals. Our town is best known for its pork barbeque, and a nearby lake is popular for recreational activities. We are nestled in the middle of a triangle of three of the largest cities in the state, all within an hours drive. Like many other small southern cities, there is a very strong network of 'good ol' boys'. There are several other computer repair shops in the area – some mobile, some with physical shops, and some working out of their homes. Most of these do no advertising at all.
In today's digital world, you might expect most people to search the internet for new businesses, or to read reviews of existing businesses, especially when it comes to computer services. That may be true in your city, but in mine, it's a different matter. I will concede that those in the 18-30 age bracket utilise the Internet to locate possible service providers more than the previous generation, but still not as much as you might expect.
A few times over the past two years I've run Internet marketing campaigns, including Google Ads and Facebook Ads. With Google I averaged about 1 or 2 clicks per week – yes, per week. I'm not claiming to be an expert with Google Ads, but I did spend a considerable amount of time reading up on the subject.
With Facebook Ads I had more success. I averaged about 1 or 2 'likes' per day. But the interesting thing was that they were all from out of town! I set the radius to target my county, which bled over into a larger city to the north. Nearly all my new 'likes' were from this larger city. But even with that limited activity, I received no phone calls from the Facebook traffic. So I've eliminated those methods from my marketing plan for now.
I next looked into Yellow Book. Yellow Book has a reputation for being on the expensive side, but it's almost a necessity, especially if you are targeting residential clients. I sat down with the representative from the company, and he proceeded to give me a demographic summary. Most of what he said wasn't new to me, as I had done my own research. However, he confirmed my suspicion that the residents of my county respond poorly to internet marketing compared to residents of other counties.
Newspaper advertising is another traditional way to get your business name out in a small town, but from my experience, it was expensive and seemed ineffective as well. I ran several ads in the local newspaper and received no calls from them. However, I was able to get a decent response from a couple of articles they ran about my business. One of the articles was a grand opening article that I personally wrote, which they edited before publishing. I also wrote a few articles for the newspaper detailing some tech help items. While the expensive advertising yielded nothing, the articles were actually worthwhile.
Internet marketing was ineffective, Yellow Book was expensive and didn't have the focus towards business that I needed, and newspaper ads were expensive and produced very little response. What's next? What about 'word of mouth'?
I have actually received most of my business from referrals and hitting the pavement. It all started with my CPA. I worked out a deal with the CPA to maintain their network. He felt I did such a good job that he referred me to some of his clients, who then referred me to other businesses they had relationships with. I also joined a networking group that meets weekly, Business Networking International, which has been great for my business.
By getting into this closed network of 'good ol' boys', striking deals, and getting referrals, I was able to kickstart my business. Word of mouth is the most important form of advertising, and by using a network like BNI you are able to extend your salesforce out into the community through people the community already trusts. People trust their friends and family before they would trust an advertisement in the newspaper or on the radio.
In the end, you just need to get your business in the public eye, whether that means going door to door introducing yourself or joining a networking group. Regardless, it may take some trial and error to find out what works for your business in your community. Most importantly, ask your friends or family members where they go to find services they need, such as a plumber or electrician. Wherever they are looking, that's where you need to be seen.
Guest Post by Adam Sewell: Adam is a technology professional with over 10 years of experience. Classically trained in Information Technology but passionate about open source software such as WordPress and Linux. Other interest include politics, religion, and anything else you're not suppose to talk about in polite company.