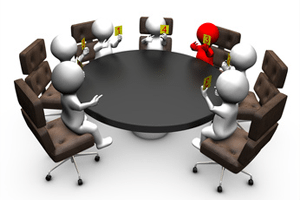 Without To-do lists I'd be in trouble. I mean serious trouble. They permeate every waking moment of my life and serve to keep me focused and on track day to day. The nature of the business means we're looking after numerous amounts of customers, who in turn have numerous issues and they come to our businesses that require numerous administrative tasks to keep them running, with a life outside of work vying for attention. I think I'm making my point. Lots to do, coming in from every direction. Without my carefully crafted to-do's I'd forget, delay, procrastinate and probably have no job/business to speak of. That is of course unless you're some kind of super-genius, in which case my feebly constructed sentences are probably highly annoying to you. But if you're a normal human-being like me, please keep reading.
Getting to the point. The to-do list, in and of itself, is not the secret or single answer to all our workload management issues. Naturally these lists grow day to day and grow quickly and the act of prioritizing them can become a large job in its own right. The following list offers some prioritizing tips to keep you focused on the to-do's and not to-do list management.

1. Do Tasks in Order
To keep your mind fully focused on the tasks themselves and to keep the whole process as simple as possible, just do the tasks in the order that you've written them out. Grade School stuff but surprisingly effective in clearing your jobs quickly. Those in the tendency of brain dumping their tasks down at the beginning of the day will often find that they've written the tasks most bothering them first. The end of the day you'll walk away feeling you've accomplished a lot more than you expected.
2. Complete the Oldest Tasks
To-do lists managed over any period of time will see a number of aging tasks. These are often the jobs we're looking to avoid. The boring ones. We procrastinate. The to-do list grows stale. Targeting the oldest jobs is an effective method, especially in the computer support business. Such methods are especially encouraged in support desk environments working to an SLA (Service Level Agreement).
3. Customers Expectations
Despite popular belief, a lot of customers understand the concept of time scales. They know you're probably a small business with one or two individuals or simply a busy business. As such they understand they may need to be booked in at a later time and date if you're not in a position to respond immediately. This is the same for both residential and business. However some tasks demand a little more attention, the home user who loses the family photo collection. The business user needing a password reset. Anything that might cause greater stress or decreased productivity is often expected to be dealt with in a timely manner. Check your lists for such tasks and your customers satisfaction will quickly increase.
4. Greatest Impact
Some of your tasks may relate to on-going projects which may impact on a number of your customers all at once. Launching a new web design or client helpdesk portal could be considered as a large impact improving your support processes throughout your business. Certainly creating a bigger impact than clearing a paper jam across town for example.
5. Request from the Boss or Biggest Client
It's the unspoken truth that we'll often respond to our bosses or our best paying clients first with little question. When they're paying the salary or contribute a greater profit to your business then they should undoubtedly receive a little preferential treatment. This can often be combined with point three about customer expectations, if the boss or big client expects a quick response, then we'd do well to oblige where possible. Move them to the top when practical.
6. Batching Jobs
Often I'll find a number tasks that can be grouped together. If I have a number of visits to make I'll often plan a driving route and get them all done in one outing rather than jump back and fourth. Updates to a few client websites, a number of suppliers to contact, a few computers on a workbench that need virus removing are all examples of jobs that can be sectioned off and batched together. Always batch where possible to save time and increase productivity.
7. Deadlines
This is pretty obvious but tasks that are approaching agreed deadlines need to be dealt with quickly, especially when they relate to the customer. Review items that have deadlines and see whether they should be taking priority over your other items.
8. Customer Availability
Clearly if your customer is unavailable and you need them to be about then the task should be given a low priority for the day. If it's a Saturday and the business is closed or the home customer is out then clearly you've hit a brick wall on that one.
9. Brain Intensive
A favorite of mine is to complete the most challenging jobs and as early in the day as possible. This serves two points, I'm a lot more productive early on in the day and interruptions are less likely to occur. I'm not going to waste that time adding user accounts or removing viruses. I'll be project planning, in a meeting or researching how I'll approach the roll-out of Active Directory at a small office. I get a good feeling of accomplishment even if the task remains incomplete and my end results are often much better.
Whilst those to-do lists are often the critical part of most working days they need to be correctly thought out to get the most of them. Get more productive and improve your customer satisfaction. Anything I've missed? How do you approach your lists?