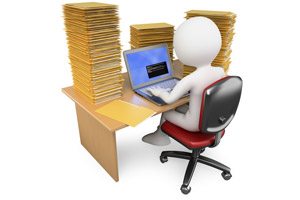 Anyone who decides to run their own business whether full time or part time has a lot on their plate. There's a lot to do to run and maintain a business even before the customers come along, and when they do you'll have various things vying for your time and attention. Getting on top of your workload and your time is a serious challenge, if you've not run your own business before or if you've not had an IT support role in the past you'll most definitely go through a potentially heavy learning curve. This is what my Managing Work Load series hopes to address. Each article will attack a single topic on managing your work load in relation to a small IT business owner and specifically how to manage it when it gets too much, how to get it under control and how to keep on top of it.

Managing Interruptions
One of the biggest problems we have in a supportive role whether employed or running your own business is interruptions. You're working at a clients home computer, or you're trying to step through an important server install, perhaps a delicate part replacement and you can be sure to get interrupted at the most critical moment. But this is the path we have chosen, people are going to call, visit, stand at your desk or jump out at you from around the corner, eagerly requesting your support. However, all is not lost, there are things you can do to help:
1. Tag Team
If you're lucky enough to be in a team with at least two people then at times you might be able to help each other out. When one of you needs to complete important work, needs to go out to a customer or perhaps just take a toilet break, the other can field calls and intercept incoming customers to keep things ticking over and manageable. The added benefit is that you can give the job your full attention which may lend to improved fix times and quality of work.
2. Have Someone Take Your Calls
When you're in the middle of something really important or out with a customer it can be really difficult to take calls and respond to emails appropriately. The simple act of having someone (anyone) take messages and email you the details is exceptionally helpful. For a short time this started out being my wife, who would always answer the phone when I wasn't about and then fire off a quick email like this:

To: ric@ricchapman.com
From: charlene@ricchapman.com
Subject: MESSAGE – New Customer / Existing Customer
Body: Mr A Nother
Phone: 11111111111
Email: mranother@notarealwebsite1234.com
Problem with laptop booting, requires call back as soon as possible, likely shopping around.

Simple yet to the point, the key details with a small hint that I should probably get to him within the next 30 minutes. Potential customers that shop around are very unlikely to be future customers. After a time my wife could no longer assist so the work was passed around to friends and family until I could find a professional answering service. I settled on http://www.answer4u.com. Such services can be as simple as the above example or you can pay a little extra for a more bespoke answering service such as asking specific questions or perhaps pointing the customer to a self help system on your website. Off loading your calls in this way can seriously improve your productivity, one less thing to worry about freeing up brain space.

3. Train Your Customers
I'll start by saying that you can't train all your customers, it's sad but that's just the way it is. Some repeat customers, however, do listen and you should take advantage of that if you can. For example I've started to utilize the SpiceWorks help desk portal for my repeat customers and businesses. I often request that they use the portal in the first instance, some of my small business contracts require that they use it before I respond to the call. Regardless of what help desk portal you use this is an excellent way to help manage your incoming calls. Once you direct them that way enough some will naturally use it as the preferred contact path.
Keeping Focused
I used to really struggle to keep myself focused throughout my work day. It's easy to get distracted with so much going on coupled with the endless list of things that need doing. For the most part, learning to stay focused is something that comes with time, provided that you regularly review your own productivity. There are however a few things I follow to keep myself focused and stress free throughout my working week.
1. The Weekly Review
This is something I picked up in a work productivity book some time ago, I believe it was part of the Getting Things Done program by David Allen at www.davidco.com, an excellent read for those wanting to take control of their working lives. At some point of this program it addresses the need to review your work on a weekly basis and identify areas of improvement moving forward into the following week and off load all those things swimming around in your brain by putting them into actionable to do lists. Adapting this slightly I also review my productivity from the following week by looking back at my daily task lists and appointments to see if I used my time wisely to drive the results I was after. From time to time I found that I was spending too much time tweaking graphics, I quickly looked into offloading this work to a third party.
2. Focus Your Social Life
When I started out I used to be in the habit of keeping my work and social/personal organisation separate, in that I utilized separate Calendars, separate To-Do Lists, and separate Mail Boxes. Over time I had created what can only be described as an unorganized mess. As things started to get busy I found that I struggled to keep on top of these separate systems. Starting out it made so much sense, but I've finally seen the errors in my ways. I now use one Office365 account to manage all my appointments regardless of business or personal. I have one organised to-do list which incorporates things in all areas of my life and I try to manage one mailbox where possible. Where it isn't possible I utilize systems which make things easier, for example the iPhone and Windows phone can create one mailbox and merge all mail contents into a single Inbox.
3. Manage your environment
Needless to say if you work in a bombsite your focus will suffer whether you actively realize it or not. If you're surrounded by clutter, paperwork and rubbish you'll find it hard to focus and get on top of any increases in your work load. When you start losing and misplacing important items then you know things have gone bad to worse. Don't let it get that far, organize your own personal systems to keep everything organised. For example I scan any document I want to keep and file it away in SkyDrive and paperwork is properly stored so I can find it quickly. When I walk to my desk in the morning I feel so much better seeing a clean desk and knowing where everything is.
4. Peak Time Focus
A recent discovery for me has been identifying my Peak Time Focus or PTF. At certain times throughout the day I find that I'm more focused than the rest. For me personally I find that between 9:30 and 11:30 I can get a serious amounts of work done so I try to utilize this time for my most important call outs and project work.
5. The First Hour Rule
If I haven't worked past midnight the previous evening I can often drag myself out of bed and get into the home office an hour earlier with a cup of coffee and clear out a lot of my daily jobs before the phone starts ringing. This sets me up nicely for the day and I'm often a lot more productive throughout as a result.
In truth there are entire books devoted to managing distractions and improving your work focus but these are a few things which continue to keep me moving forward without drowning in calls whilst keeping stress at bay. I'll always be looking for ways to improve focus and distraction management so please share your thoughts below with your fellow Technibblers.