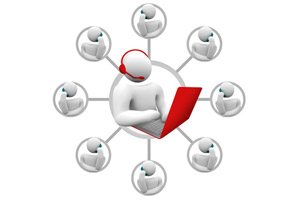 Customers … love them. Can't get enough of them in fact (obviously). However, I have on a more regular basis, lifted my phone and inspected the caller display with some amount of concern, or dare I say dread? Lately it's given me the gut feeling of knowing that this caller will probably not amount to much, other than perhaps wasting another five minutes of my day; notice the emphasis on another. In the interests of privacy (I would also like to keep this customer) I shall refer to him as Client A from here on out.

Client A is an absolutely great guy and I've enjoyed repeat business from him over several months. The repeat offense, however, continued to rear its ugly head in the way of "On-going Care" over the phone and through email. What started out as a small, innocuous issue steadily increased into a weekly problem which I desperately needed to get under control. Questions, questions, and more questions about computer (and more frustratingly non-computer) related issues, and not just calls, but emails as well. Emails which now don't get answered which leads to … yup … more phone calls.
I have to hang my head though, the cause of this problem was undoubtedly my fault, I made the mistake of not setting boundaries and I needed to get the issue under control. This issue with Client A and other clients have led to the birth of a new phone/email support service for which I now introduce a charge.
Ok, Client A is of course a repeat customer so some of these offenses can be forgiven to a certain extent, but the reality is that accumulated time eventually started amounting to accumulated hours … unbilled hours. Up to this point I never really had any need to charge for phone or email support, so I originally took no action when planning out my business services. It was my thought that introducing charges for phone and email based questions would only serve to put people off (my original goal), but in fact the reality was the complete opposite.
There really was a strong market out there for this sort of service (even for a small business) and having done some market research with my existing client base, most fully intend to make use of it in the future, around 90% of them in fact. The idea that they can contact their tech support guy for the smaller issues as well as the larger type failures seems to be a very appealing thought. "Continued peace of mind." was one such comment. On deciding that this service needed adding I gave thought to the various ways this could be done.
Phone/Email Support – Basic Business Models
Introducing phone and email support can shift your business model slightly and opens up a couple of approaches.
Casual Approach
This is me, I very much take the casual approach to this service and overall do not focus on it as a core offering, more of an additional service to my existing client base. At the end of the day I'm not sat around waiting for the calls and emails to flood in, I'm mostly doing the day job, consulting, and doing call outs at evenings and weekends. Between these I'll catch up when I'm next at my desk. I receive several items a week and now have the peace of mind that the time is being billed accordingly. I've probably lost a couple of clients due to the inclusion of a charge but the trade-off was financially worth it.
Primary Approach
Some businesses take the phone and email support as their primary core service by talking the issues through and perhaps moving to full remote session support billing hourly from the moment the call begins. The model can be very profitable and customers benefit from an almost instant support service provided that the caller to technician ratio is kept in check. If there is an onsite requirement then a third party may be called out to service the computer relieving the business of the hands on work.
Mixed Model
The mixed model takes on both of the above approaches by introducing a fully manned desk working alongside onsite support techs to provide the full support experience. That way your internal support desk can deal with the small phone/email issues remotely, leaving you or your other support techs to deal with issues needing up close attention. Again we have the issue of needing to staff this model correctly but it offers the most complete support service and is often the goal of many computer support businesses.
Charging for phone and email support
Deciding your rate is your first job and then making the decision on how to implement that rate. This will often depend on the above models as well as your own experiences providing over the phone/email support. Given my Casual Approach and only offering the service to existing clients makes this very easy. I already have a good relationship with the client and I only tend to bill them once they've accumulated at least an hours' worth of phone and email support, then that's at my normal hourly rate.
Premium Rate Numbers
You can of course choose to purchase a premium rate number to avoid having to bill your client directly. Setup and rental costs can often be quite high for small businesses and probably not really an option unless taking the Primary business model approach above. Callers are often unsure about calling premium rate numbers given that unless they have a stop watch, they have absolutely no idea how much they've just spent getting help creating that pesky shortcut.
Prepay Schedule
Another option which could easily be applied to Primary and Mixed models is the inclusion of a prepay schedule. A way of arranging payment up front, prior to commencing the support service. This was also brought up by Thomas Mulkey in response to my recent Late Fees article as a way of avoiding the use of late fees altogether. Not something that you could easily include in the Casual approach, having paid upfront your client may be expecting a quick response to their query, just something to keep in mind.
Keeping Track on Time Spent
Another important factor is keeping tabs on the time you spend responding to calls and emails. "Easy!" I hear you cry, pen and paper, excel, OneNote, Evernote are great tools for noting down and things like Excel provide a means to work out the charges etc. I did this for a week and got so confused with the stacks of notes I accumulated (throughout several locations) that I decided to look for something specific.
ZOHO
For me personally I'm now using Zoho for the Time Tracking service which you can put against my individual customer records, with a handy built in stop watch it allows me to bill the time I spend exactly and invoice it when I'm ready at a click of a button.
TOGGL
It started small but Toggl has expanded into a comprehensive set of tools to help you manage, track your time and bill accordingly for projects of any size. Insanely flexible with an extensive array of reporting tools. Time tracking projects can be done via the site, a desktop widget and smart phone apps. Pretty cheap at $5 per month and will integrate with Freshbook, Quickbooks and others.
GTime
Another interesting one for those using Google Docs is the GTime tracking tool, a desktop app that records all the data back into a Google Doc Spreadsheet. Simple and east to use, take a look here and see if it works for you.
Smartphone Apps
Searching your respective app store will quickly reveal a wealth of tools dedicated to this purpose, having at least one of these tools handy on your iphone, wp7 or android will undoubtedly prove useful when you're not stuck in front of the PC. If you happen to be on your mobile then your call records will at least provide you with call times for detailed recording at a later date.
So there you have it, charging for phone and email support is really quite easy and you may find that clients love you for it! Just be sure to communicate it well and manage their expectations of the service accordingly, you don't want to take the casual approach only to be hounded night and day over the phone. On the flip side if you decide to use it as your core support service then be sure you can handle the incoming calls, hold music isn't a great look for any business. Of course there are plenty of methods and a variety of tools out there to smooth the process over. Zoho is my personal choice but certainly not the only option so please share your tools and ideas with your fellow Technibblers in the comments below.