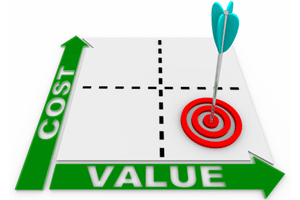 Whitebox PC building has been an honored tradition among computer technicians for a long time already. I have a lot of respect for those who see the value and quality in a computer built with the full white glove treatment in mind. From picking the best parts, to installing the OS of choice. Stress testing, tweaking, and overclocking all play a part in this classic pastime.
But as the computer repair field keeps changing, alongside the technology industry at large (and the consumers that go along) we need to be mindful that like with any business: you evolve or die. It's as simple as that. I'm not here drumming the death bell for PCs as we know them. They aren't going away any time soon. But custom building computers, as far as I'm concerned, is a thing of the past.
Before you jump on me, let me clarify my thoughts a bit. Custom building PCs as a primary service offering is a thing of the past. Tony Scarpelli penned his thoughts recently in a guest post on why he believes in just the opposite, and how it has been working well for him. I applaud his success and it's good to see that a custom built market still exists.
However, I want to do my best to steer fellow computer technicians in the right direction. From a business sense, custom building at my perspective is a dying venture. A lot of people email me each year asking for my opinion related to striking it rich in the custom box building arena, and I steer them clear time and time again for reasons I will explain.
It's not that I have a dislike for custom PC building. I enjoy it as much as any other technician. I grew up tinkering, building, and swapping through much of my younger years. All of my bench systems for FireLogic are custom built towers that serve our needs very well. And we do actually pump out a handful of custom built PCs each year – but for very niche purposes like gamers or stock traders. Aside from that, the other 95% of our customers are usually steered towards OEM PCs and the large majority of them are quite happy with their purchases.
Where does my opposition to custom built computers lie? In a few key points:
Bang for the buck: Quality OEM systems (business oriented machines) these days come with the same or better components compared to similarly stocked custom builds, generally for less cost. And I can never match the warranties they provide – generally 3 years on the systems we tend to recommend.
Time loss: There is no way you are going to be able to bill a client fully for all of the time spent researching, procuring, installing, testing, fixing, and delivering a custom built PC. Anyone who says otherwise is cutting corners somewhere.
Unmatched warranty support: Most of the OEM PCs we source for customers do in fact have 3 year warranties with 24/7 phone support. I would never think of attaching such a warranty for my own custom built PCs as it just isn't sustainable.
The question of quality: If you seek out business-oriented OEM PCs, then you will likely get good to great system build and component quality. Buying the cheapest of the cheap and custom building doesn't overcome the mantra: garbage in, garbage out.
There are still situations where custom building makes sense. For example, niche scenarios like a business that wants an SSD-RAID powered Windows server. Or, you may have a client that wants a SLI-powered gaming machine with the latest and greatest specs. Systems for stock traders are also usually better custom built, because we can use higher end Quadro video cards with quad DVI or HDMI output for multi monitor setups. These situations warrant custom building, and the margins henceforth make it worthwhile.
But general usage PCs for the average office worker or a family of four? No way. My recommendation is to stay away and save your laborious efforts for services more worthwhile and profit bearing, like training, installing peripherals, or assisting customers with upgrades. I've never gotten rich custom building and don't expect to do so.
Why The Odds Are Against You
If you've made it a customary part of your routine to recommend custom building over buying OEM prebuilt systems, then you're doing yourself or your customer – or even worse – both of you a disservice.
In his recent posting taking the opposite position as myself, Tony Scarpelli wrote, for example, how he sells his lowest tiered systems at around $600USD and builds them for around $300USD. Sure, at face value this looks like a stellar money maker. But the pitfalls surrounding this approach are just under the skin.
For one, Tony's specs on a sample $300USD system are actually closer to what you'd find in a mid range system circa 2009, complete with a Core 2 Quad and 2GB of RAM. In just a simple example of a comparable system I would recommend to a client instead, a Lenovo M72e micro tower PC, such a system can be currently sourced for only $450.57USD on Electrociti.com (price current as of 7-9-2013). You can easily pick one up, slap a 25-30% markup on the unit, and end up selling your client a rock-solid modern Intel Core i3 computer. And the system is backed by Lenovo's 3-year 24/7 warranty support with full parts replacement coverage.
Just taking the CPU comparison as one example of how selling an OEM PC in this case benefits the customer greatly, just compare the benchmarks between the Q8200 Core 2 Quad and the lowly Core i3-3220. CPUBenchmark.net places the Q8200 at a mediocre average CPU mark rating of only 2840. In contrast, the Core i3-3220, even being a bottom rung processor in the Core i-series line, rakes in an average score of the same criteria at 4234. That's over a 49% performance increase for pretty much the same face cost to the client. Tack in the modern system board being used, the 4GB of DDR3 RAM, and a nice 500GB SATA hard drive, and you can see how this spec sheet is a winning combination.
In a similar example, I wanted to see how a prebuilt OEM machine could stack up against a custom build of roughly the same quality. Mind you, the specs I worked with aren't exactly 1:1 comparisons. Some of the parts used in prebuilt OEM systems are only sold through the respective OEM in their machines and cannot be bought on the open market. But this doesn't mean we can't make an educated comparison of like quality systems.
So I put together a comparison of how much it would take me to custom build a PC similar to that of a Lenovo M92p micro tower PC. Such a computer I would likely recommend to a power business user who needs lots of storage space and a dedicated video card for multiple screens or perhaps for CAD programs. Below is my spreadsheet comparing off-the-shelf parts to the M92p sourced from Electrociti.com: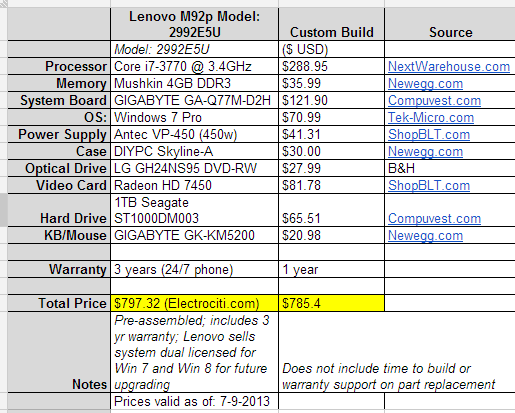 As you can see, the custom build actually won out. By a mere $11.92USD. The parts I sourced for the custom build used the "lowest priced reputable vendor" available for each category based on Google Product search. I might have been able to shave off another 10-15% if I used the vendors that Tony mentioned in his article but regardless, the custom build pricing still doesn't have my research time, procurement, installation, and testing time taken into account. Not to mention that I would never offer a 3 year parts warranty with 24/7 phone support, and you can easily see how this is a lose-lose scenario.
Even on the above M92p tower, you can tack on a comfortable 20-25% markup and still end up making good money at a tick under $1K USD. And you're not on the hook for parts that go down or be expected to answer run of the mill customer questions in the first year – as would be the case if you tacked on your own warranty. We push OEM machines, charge for the migration and installation, and provide paid follow up support. We offer to handle warranty service when needed, and customers usually choose to have us help them handle this. The upside? We aren't expected to provide our labor for free, yet the customers do get their parts replaced for free, which they usually find comfort in.
Is Prebuilt OEM Quality As Good As Custom Built?
One of the most vocal arguments the custom-build community has over OEM PCs is a widespread misconception that all OEM systems are "junk." This simply isn't true, as long as you know what class of systems to be looking at. Sure, comparing a quality custom build to a clearance shelf doorbuster being sold in the latest Best Buy or Office Depot weekly ad is like placing the Geo Metro up against the Subaru. We are talking totally different quality classes altogether.
OEM PCs are no different. In general, I like to steer clear of the consumer-focused models on the market because they live up to their name: they generally aren't built to last as long, have shorter warranties, and tend to use lower end parts for the sake of keeping price points down. Business class systems are priced 10-15% higher than their consumer focused cousins because corporations buy for 3-5 year lifecycles and are fully willing to pay a premium for quality components that last for this timeframe. The slightly increased pricing is well worth it.
An easy way to go OEM without sacrificing quality is by looking towards the business oriented systems sold by the same manufacturers. My top favorites are Lenovo, HP, and Dell (in that order) because I have been recommending their business class systems to home and office customers alike for years and clients just LOVE them. They aren't flashy but they are built like tanks and come with stellar warranties to boot.
Lenovo is hands down my favorite OEM PC maker next is HP at a close second. Both companies have awesome yet cost effective business line PCs with standard three year warranties. Lenovo has their "ThinkCentre" desktop line, and HP has a wider mix of machines under the "Pro" moniker, or towers that go under the "HP Compaq" combination. I'm frequently sourcing rock solid systems of this caliber for under $550USD. I tell the customer, yes, the unit will be a few dollars more than a run-of-the-mill shelf system, but it will last you a few more years and likely have less hardware problems. On the average, I'm pretty accurate and these customers use these machines for 5-7 years (or more…) without many hardware problems.
Custom Building PCs is a Dying Offering – Make Money On Other Areas
I hope you can understand why I have such fervent feelings against custom building as general practice. It's because I've been through that game, both at my former employer and now for my own company FireLogic, and the results have been following a common trend for the last 2-3 years. As margins slim down, you try and cut corners with cheaper components or questionable Windows licenses. In the end, you are just losing valuable time doing this cat and mouse hunt and are degrading the overall quality of the system for the customer. Is scratching a few extra dollars of profit worth it? I don't think so.
OEMs can simply purchase their parts at dirt cheap pricing because they buy in much bigger bulk then you ever could as a computer repair shop. We're talking hundreds of thousands of parts at a time – SSDs, memory chips, Windows licenses. It all adds up to tens of dozens of dollars off the purchase price of the machine, as I proved above.
Does this mean you shouldn't ever consider custom building? Absolutely not! Using good judgement is key to knowing when you should be buying OEM and when a customer would truly benefit from a custom build. I outlined some of these scenarios earlier in this article, but there surely may be others you come across. The biggest thing to take away from this article is that if you are considering making custom building a primary focus of your budding business, I urge you to steer clear. There is better money to be made elsewhere, and good OEM systems absolutely do exist if you know where to look.
Have an opinion on the build vs buy debate? Post your comments in the area below. We would love to hear what you have to say!