MSCONFIG is a special tool built into your Windows called "Microsoft System Configuration Utility" or "MSCONFIG". MSCONFIG is designed to help you troubleshoot problems with your computer such it being slow or frequently crashing. As many computer users know, running a lot of programs at once will slow down your computer. What a lot of users don't know however is that Windows launches a lot of programs in the background that you never see, preventing some of these from loading at startup can greatly increase your computer performance.

Getting started with MSCONFIG:
To start MSCONFIG goto:
Start > Run and type "MSCONFIG" without the quotes.
If you are running on Windows 95, Windows NT or Windows 2000 then you probably don't have MSCONFIG available. You can download a copy that was taken from Windows XP here: http://www.technibble.com/downloads/windows-tools/msconfig.zip
Once you open MSCONFIG you will see 6 tabs which provide access to various parts and processes that Windows XP uses. On the far right there is a tab called "Startup" which is of most interest to us right now as it controls which processes start automatically when you load Windows.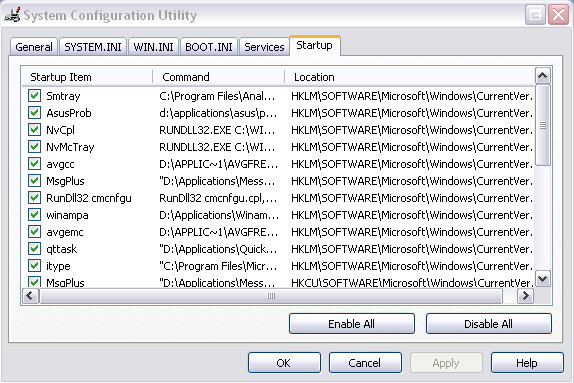 This list will probably be quite long and most of the items in it you won't recognize at first. There are plenty of directories on the internet that can tell you exactly what each of these are, what program they relate to and whether it is safe to remove them or not. It is possible to find hidden viruses this way.
Any change that you make in the startup tab in MSCONFIG can be reverted by reopening the tool and reselecting the entry you deselected, so if something doesn't work later down the track (which isn't likely) its an easy fix.
How to use MSCONFIG
Open MSCONFIG and click on the "Startup" tab to view the list of startup items, cross reference with a directory such as http://www.sysinfo.org/startuplist.php to see which items you can do without.
The only startup items you absolutely need in Windows 95/98 and ME are:
ScanRegistry
SystemTray
TaskMonitor
LoadPowerProfile
Your antivirus program which you wont have a hard time figuring out as its pretty obvious.
Windows XP is slightly different as XP loads most of its required programs though something called "Windows Services" which means the entries in MSCONFIG are optional and can be switched off. However it is a good idea to only disable those you recognize and don't need running all the time. When in doubt, leave it on.
To prevent an item loading at startup, deselect it by clicking the checkbox to the left of it. Although you can deselect as many as you wish it is wise to do them one at a time in the event something goes wrong it is easy to identify the source.
Click on the button "Apply" located on the lower right hand side and then click the "Close" Button. You will need to restart your PC before any changes come into effect.

Once you restart you will be shown the below screen which tells you that you have switched off some programs that load at startup, if your happy with you changes you can tick the checkbox to not show the message again.