For the not-so-techie readers, not all Windows XP CDs and Licenses are the same. There are many different types of Windows XP CDs available:
OEM – Which are usually sold with the computer
Retail – Brought stand alone in stores like BestBuy, CompUSA etc..
Upgrade – To upgrade from a previous operating system
Branded – Specifically branded copies from large computer manufacturers like Dell
Action pack – Was part of the Microsoft Action Pack
Volume License – Typically used in large businesses, government and educational institutions
The problem with different versions is the license key from one version typically wont work on another version. If you have a retail license key, it wont work on an OEM disk.
To make things worse, lots of people lose their Windows XP CD. However, they usually have their license key attached to the side of their computers. So how does a computer technician know which XP CD they should use for their clients license key?

JohnR from Technibbles forums has posted an excellent tip about how to visually determine the difference between Windows XP CDs.
How to determine what type of Windows XP CD you have:
The way to tell if any given disk is OEM or not is to look carefully at the words in the hologram. If it says "Only for distribution with a new PC" on the front of the disk, it's an OEM copy. If it doesn't say that, it's Retail.
If it says "Upgrade", It's Retail. To use an upgrade disk you'll need a valid disk from a lower version like 2000 or ME to put in when the installer prompts you for one.
If it is a branded CD (such as Dell or HP), its OEM.
How to determine what type of Windows XP License Key you have: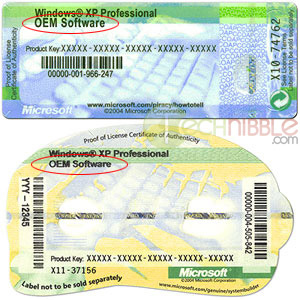 To tell if the user's license key is OEM or not, look for the license sticker. If it's on the case of the machine, it's 99% likely to be OEM. If it says the name of any computer company on it, it's OEM. If it says OEM, it's OEM.
If there's no license sticker on the computer case, it's probably a retail copy. If they've got a brightly-coloured 8.5×11 paper folder with a CD holder and a license key on the folder itself, its a retail copy.
There's no easy way to tell if a user's key is from an Action Pack subscription or a volume license deal, both of which require different CDs from the OEM and the retail ones, but the good news is that if they've got those, they almost certainly know it, because those are not the kind of thing you find on a home user's personal PC.