A common annoyance that people have with their computers is that their applications such as Internet Explorer don't scroll smoothly down the page or when they move an application window around the desktop it is very jumpy. The cause of this problem is typically one of two things, a damaged/out-of-range wireless mouse or the video card driver hasn't be installed or has been corrupted. Here is a tutorial on how to fix this problem.

The mouse problem is easy to fix and we will go into that a little bit later, for now we are going to see if the video card driver is installed and working and if not, get the appropriate driver and reinstall it.
Checking to see if your video drivers are installed:
To view the status of your computers drivers we need to go to the "Device Manager" tool. To open Device Manager:
Right Click on "My Computer" and choose "Properties".
Choose the "Hardware" Tab and press the "Device Manager" button.
Any devices that your computer doesn't recognize are marked with a question mark and/or a yellow exclamation mark. If you have the option "Display Adapters" which is typically 3rd from the top, click the plus sign next to it to expand it. If it lists your video card and doesn't have an exclamation mark next to it, your video card drivers are installed correctly and you should scroll to the bottom of this article and read "The Mouse Problem"
If you don't have that option but you have a yellow question mark next to "Other Devices" with "Video Controller (VGA Controller)" below it with a exclamation mark like the picture below then you will need to install your video drivers.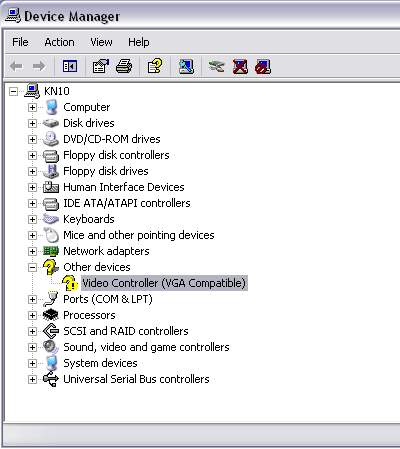 Missing Video Driver in Device Manager