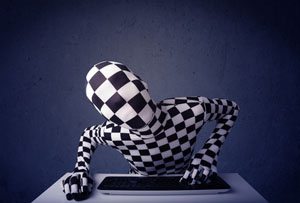 In the past few days I have written about how to gain access to a Windows user account and how to bypass a BIOS password. These are great skills to know but you need to be careful how they are used. For example, you don't want to be removing the passwords for theives on stolen hardware. In this article, we'll show you how to spot potentially stolen hardware.

I have had a few shady people bring in some laptops which I am pretty sure were stolen. One time a young man in his mid 20's brought in a new laptop. This laptop appears to be only a few months old as it had some pretty cutting edge hardware. Anyway, he asked me to remove the BIOS boot password and I asked him "do you have any idea who could have put it on there?" (so he could ask them) and he said it came like that.
Now I don't usually like be nosy and quiz my clients, but some red flags were popping up with this guy. So I asked him whether he had the manual or some other documentation that came with the system because if "it came like that", the password would most likely be on the documentation. Fumbling for words, he said he lost the manual.
I then asked him who he got it from using the excuse "so I can give them a call and ask them what it could be" and once again fumbling for words he said a friend gave it to him.
At this point I knew the computer was stolen. I can understand a lost manual as it does happen, or even someone else putting on a boot password for revenge, but no friends (well, not mine anyway) would give away a cutting edge laptop. Some people might give someone their old laptop because they brought a new one, but I doubt they would give away a brand spanking new one.
I then told him I couldn't help him and he should try someone else.
Here are some warning signs to look out for when you think a piece of hardware may be stolen
Some of them arent so bad by themself, but when a few of them show up at once, its very suspicious:
Computer is passworded
Computer came from a "friend of a friend"
No Manuals, Drivers or other items that typically come with new hardware
Kensington lock slot is damaged (on laptops)
Serial Number appears in stolen hardware lists. Apple Macs have many "check your serial to see if its stolen" services such as this and this.
Engravings on the case such as "Property of.." or a drivers license number
Owner fumbling for words as you ask questions
Corporate branding of the computer – backgrounds, computer info, stickers etc..
Why do dont want to deal with these people:
Sure, its all money. Why should I care? Heres why:
Its wrong and immoral. What goes around comes around. It could be your hardware on another techies bench one day trying to remove your password
These people get to see the inside of your house/workshop/store and see the worth of what you have inside. They also get to see what kind of security you have and scout for possible entry points to the premesis.
By removing the password you make it sellable for them. If they make money and it works, then they'll keep on doing it.
To get rid of them, either tell them that you dont know how to remove it, or you are too busy to get it done in a timely manner.
Has anyone else here come across stolen hardware? If so, what was the story?