SysSecuritySite.com or W32.Myzor.FK@yf is a new rouge anti-spyware program . When it is installed it hijacks your homepage and creates fake popup messages warning you of a W32.Myzor.FK@yf virus. This infection is designed to fool users into paying for a commercial version of the program. Here are the removal instructions for SysSecuritySite/W32.Myzor.fk.

The popup messages can say:
Warning!
w32.Myzor.FK@yf is a virus that infects files with .exe extentions. It attempts to steal passwords and private information from the infected computer. etc..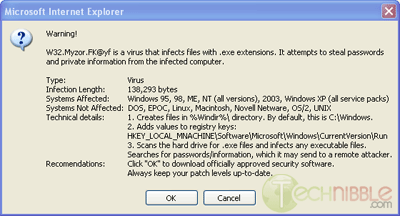 Fake Popup Message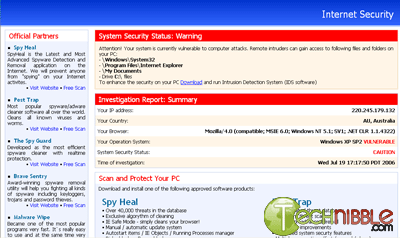 Hijacked Start Page

Removal Instructions:
First of all, download SmitRemFix.zip and save it to C:\ Drive. Once it has downloaded, double click on it which will extract it. Do not run the actual program yet as it must be done in safe mode.
Load into Windows Safe mode by restarting the computer and just before the Windows XP screen comes up, press F8 and choose safemode.
Once in Safemode:
Goto the SmitfraudFix folder which you saved to C:\ Drive earlier and double-click on smitfraudfix.cmd
A blue screen will come up saying "Enter your Choice: (1,2,3,4,L,Q):". For this, Press no. 2 on your keyboard.
SmitFraudFix will start scanning your computer for any files related to this infection, just wait and let it go though its process.
Once finished it will ask "Registry cleaning – Do you want to clean the registry?" Press Y, as Yes
SmitFraudFix may discover that your wininet.dll file is damaged (this doesnt happen in all cases so dont worry if it doesnt happen. If it does find that it is damaged, it will ask you to Replace Infected File? Press Y as Yes and hit Enter.
It will ask you to restart the computer, please let it restart the PC.
Your computer should be now free from infection however you should run your virus scanner or use a free scanner such as AVG Free
Once it is complete, Prevent SysSecuritySite.com/w32.Myzor.FK@yf from infecting you again:
Get a virus scanner such as AVG Free as mentioned above and keep it up to date.
Restart the computer back into normal mode and visit the Windows Update Site (there is usually a icon in your start menu somewhere. If you dont have this icon you can open your browser and goto http://windowsupdate.microsoft.com