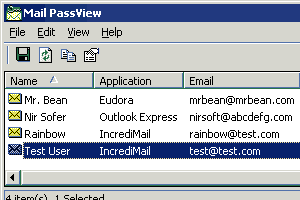 We've all been in this familiar situation before: a customer calls you to have their old computer data migrated to a fresh new system they just purchased. All the easy stuff transfers just fine, but then you realize that Outlook or Thunderbird need to get moved over. Getting the email client data files moved across machines is fairly simple, but then the tricky part hits you. The customer has a mixture of 5 different POP and IMAP accounts they connect to, and expect you to replicate their setup in 1:1 fashion on the new machine. They have no clue what passwords relate to any of the accounts. Where to next?

Enter one of my favorite gems when it comes to email client migration. The program is a freeware utility called MailPassView and it is developed by the excellent people behind the website NirSoft. There's not much that needs to be said about system requirements because it's likely the most liberal program when it comes to operating system compatibility. It works on every version of Windows since 98, and I've never experienced any issues with x64 flavors of any OS, either. It also, quite remarkably, supports nearly every email client under the sun (except for Lotus Notes perhaps). The most common ones supported that technicians will encounter include Outlook 2000 and up, Outlook Express, Windows Live Mail, Windows Mail (from Vista), Eudora, Thunderbird, and even helper programs connected to email accounts like Google Notifier. That's an impressive spec sheet if I've ever seen one.
How does it work? Here are the simple steps for using the program in its most basic form:
1) Download either the standalone zipped version or the full exe installer edition from NirSoft.
2) Launch the program (for zip users, merely launch the sole exe file in the extracted folder).
3) The program will launch and merely display all available account details from every email client on the system. You can "refresh" the program if you feel it didn't grab all proper settings on the first run.
4) You can either manually copy out your account details, or better yet, use the simple "Save" floppy icon on the left hand side of the toolbar to save a text file of your results.



It's that easy. The program is super simple to utilize, but it comes in handy for those very situations where a customer just can't remember their account credentials for the life of them. MailPassView doesn't stop at passwords only. It also provides full POP/IMAP/SMTP settings for any email accounts it can sniff out. The full list of details it can weed out includes:
Email addresses (full)
Server addresses (incoming & outgoing)
Server ports (incoming & outgoing)
Email passwords
Password strength
User profile names (most pertinent for Outlook setups)
In all, MailPassView is an excellent tool for any computer technician that is tasked with migrating an email client setup for their customer. I've used the program countless times with great success. If your email client happens to not be supported, they even offer an alternative utility called SniffPass that claims to be capable of, well, "sniffing" out passwords traveling over your network adapter. I've never had a need for SniffPass personally, but I'm sure it works as solidly as MailPassView.
If you have any comments about MailPassView, please feel free to post them below.