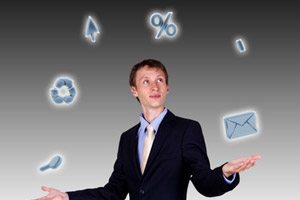 I know I am not alone in the way I manage my computer consulting & repair business FireLogic. Technibble recently surveyed its readers and it was evident that a fair majority of you who happen to run computer businesses do so on a part time basis. That is, you hold full time day job and handle clients on nights and weekends.
I happen to work in technology for a public high school in the town where I live, but everyone's situation is unique. However, the intricacies of managing a fledgling business as a part time entity is anything but a traditional part time affair. Juggling calls, scheduling clients, and finding time for business upkeep is organized chaos at best.
Motivation and a natural passion for my side business tend to overcome any stresses and pressures that go along with this chosen lifestyle. I know many of you face the same struggles to toe a fine line of meeting clients' needs while still maintaining your commitments to a normal full time job.
It's not an easy task, but luckily I've been honing some techniques over the past year and a half which hopefully can lend some insight for everyone else. They have been working extremely well, and have allowed me to find the sweet spot of managing a growing computer repair company while holding onto my full time day job.

1. You can't please everyone. This is always easier said than done. No matter how hard you may try to meet the needs of everyone, there are and always will be individuals that cannot be satisfied. The biggest issue a small portion of new customers have is the fact that work cannot be handled before 4pm on weekdays.
It's an interesting dilemma to try and tip toe around. On one hand, I don't like to bring too much attention to the fact that I work another job during the day. On the other, I want to try and provide as much flexibility as I can for this person so as to not toss away a possibly great lead.
Early on I used to fret over losing even one client to the "scheduling quagmire." But I've come to the realization that you can only bend so far to accommodate others due to your situation. If post-4pm weekday or weekend labor is not satisfactory, then they simply find another company to handle their needs. Be fair to yourself first and then schedule customers as time permits.
2. Don't be afraid to ask for help. Help could mean a number of different avenues to offset a workload, but I'm focusing this statement on people power, plain and simple. Most new computer business owners tend to believe (as I did) that they are invincible and can do near everything on their own. While I follow this matra as well for the most part, I've been slowly bringing on limited assistance.
There are many relevant examples of how I employ targeted assistance with certain functions. I've got skilled IT colleagues that I hire to take on limited scope projects which are just too time consuming for me. I have a small team of younger helpers that run flyers in the neighborhood. And I'm working with an intern that is handling some of the graphic design and similar elements of company marketing that is better left to more skilled artistic eyes than my own. A good business owner can tackle everything on his/her own, but an even better one knows when and how to branch out for help.
3. Leverage the power of the Cloud. Love it or hate it, the cloud has a lot to offer a busy entrepreneur. I've espoused the benefits of Google Apps and Zoho in previous writing, but I can't stress enough how important these tools have become in allowing me to manage an increasingly busy workload.
I don't pay for any advanced calling services as Google Voice is the backbone for my company phone number and texting service. Zoho Books is my accounting platform that allows me to handle invoicing, expenses, and a plethora of reporting from any internet connected computer.
I don't have the time or patience to manage traditional servers, nor are these solutions cost-effective for a small business like my own. I'm 100% mobile, always on the go, and never standing still. The cloud is the first effective platform that allows me to work the way I always envisioned, and I'm not looking back.
The tools are out there; you just need to find what works for you and give them a try. Chances are there is some mixture of tools that can suit your particular needs at a lower cost and higher satisfaction over what you may be using today.
4. Breaks and lunch are your best daytime friends. Those of you in my shoes know exactly what I mean on this one. Since encroaching on company time (your day job, mind you) is neither kosher nor advised, responding to clients has to be carefully crafted around breaks and lunch time.
For me, lunch break provides the best opportunity to make any mid-day calls that need returning or inquiries that need to be handled. Depending on your own day-job schedule, your break times may be more fitting. Any way you look at it, you CAN make it work to your advantage.
If breaks are not enough for your situation, consider handling the first batch of client communication before you get to the office. I personally like to spend a half hour or so before I go to the office "clearing" out my inbox of any top of the morning emails.
This is beneficial because it gets your timely messages in front of clients first thing, and you can then take lunch break (or other breaks) to respond as needed. By the time you get off work, you should be able to manage email to the point where any needed appointments are scheduled before you are even finished at your day job. It's a fine-tuned process that takes time to perfect, but once you get a mental mindset going, it becomes a well oiled machine.
5. Don't actively market to business clients so long as you cannot handle 9-5 work. Many techs out there in this predicament know full well that they cannot handle the 9-5 needs of business customers, yet they still advertise themselves actively in this field.
Do yourself a favor and step back to ask whether this is helping or hurting your own company image. While my company FireLogic is advertised as being capable of handling small business work, I am not actively promoting it through flyers, emails, or any other means that may attract a bevy of business clientele. For the few that land in my inbox, luckily they are generally low maintenance customers that don't have time sensitive 9-5 operations. I work with them on night and weekend scheduling and it's worked out well thus far.
Address your own situation as needed and be careful how you approach this topic. I make it a personal goal of mine to never turn down any business referrals from current clients. Since referrals are on a higher level of trust with you before the conversation even begins, addressing my situation and schedule limitations are easier and nearly always end up with no bad feelings. If you can incorporate a policy like this, you are bound to still grow a small business client base that can be tamed.
6. Consider your day job as a "word of mouth" gold mine. Who said working a full time job was necessarily a bad thing? You likely have a decent paycheck, good benefits, and a set schedule that is predictable. All the while, you can work on growing your side business to the point where it can take over as your primary means of income after a nurtured start. While there are pitfalls of having to relegate your side business to nights and weekends, here is one upside that many forget: the word of mouth gold mine that is sitting at your feet.
Word of mouth clients are hands down my best customers that routinely establish long term relationships with FireLogic. Why is this recipe so formidable for any newbusiness? Simply put, any referrals you get at work likely have a starting point of trust that is otherwise tough to obtain. These are the people you work and interact with daily – they are bound to see you in a different light than any average listing on Google.
Acknowledge this and build on it. Treat these word of mouth customers extremely well and they will pass your name around with little effort. It has worked unbelievably well for me and I continue to harness it for new leads. While some workplaces may limit such inter-office dealings, just be sure to scope out your company's policy to ensure you aren't stepping on any toes.
7. Set appropriate expectations for clients and yourself. Don't promise the moon if you can't deliver. More likely than not, working a full time job will adversely delay the tight turnaround that you could otherwise promise to a customer. You have to recognize this and be careful when scheduling both one time visits and longer projects. Most repairs on systems that I handle at home come with at least a 2 day turnaround, and more than likely are closer to 3 or 4 days for bigger repairs.
Many times I find myself offloading work to weekends just to manage a busier than usual personal life during the week. It's perfectly OK and I've come to the realization that with the added responsibility of running a business, comes the flexibility to be able to schedule how I see fit.
8. Most importantly, make time for yourself. Take vacations once in a while. Spend time with the family or significant other. Set aside time for a hobby or interest that you do on a regular basis. I admit that I suffer from the entrepreneurial syndrome of working 24/7 but the human body cannot sustain full time work mode every waking second. Your clients and business will still be around tomorrow if you take a few hours for yourself today. Step back from playing boss for a little; your body will likely thank you for it.
If you have any great tips for fellow (part time) computer business owners, feel free to post them in the comments section so we can all benefit from the knowledge. There is no exact science for how a part time computer business has to be run, and my observations and techniques are merely learned from experience. I wish someone made a manual for how this is supposed to work, because it would have saved me from many sleepless nights. Oh well, the bumps in the road are what make a new venture all that more exciting.