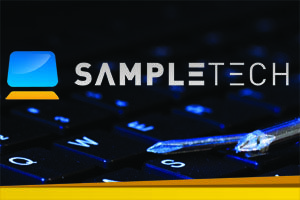 Your logo and business card are a huge part of your business. It is the image that represents you and often people will even choose a technician over another based on their logo or business card. Our techie "I can figure it out" mind wants to create our own business cards but we need to be careful, as this can be like your clients 16 year old cousin thinking he can fix your clients computer. "How hard can it be?"
If designing isn't your thing then you definitely should get a professional to make one. In this article I'll tell you how to get one made at a decent price and have hundreds of custom-made designs to choose from.

Traditionally, you would find a designer and they would ask you a some questions. In a few days they will present you with a handful of logos to choose from. What if the designer is flakey and takes a long time to get the work done? What if they are fast but you don't like their design style? If you don't want to go ahead with any of their designs? You will most likely still have to pay them for their time just as you would if you diagnosed a computer but the client didn't want to go ahead with the repair.
What if I said that there is a place where you can get a logo made cheaply for around $200-350 USD and have hundreds of designers presenting designs to you? At this place you only have to pay if you are happy with the design.
This place is called 99Designs.com and it is a place where you to run a contest for designers to create your logo. The prize money is the $200-350 and the winner is the designer who made the logo you want to use. To give you an idea of what I am talking about, here are some past logo contests for computer repair businesses: http://99designs.com/search?q=computer
As you can see, there is some great talent on this site.
The key to getting exactly what you want on 99Designs.com is to:
1. Give as much detail as you can in your creative brief – In this brief you may mention that you are a computer repair business and the angle you are going for is a "young and funky" look or perhaps "serious suits and ties". You may want a single shape and text logo like Best Buy's Geeksquad, or a logo with text below it like Circuit City's (now defunct) Firedog. You may like the shiny web 2.0 look or perhaps something traditional and serious. Whatever you have in mind, let them know. The more comprehensive your creative brief, the better the logos will match your businesses vision and needs.
2. Set your budget and pay a fair price – The bare minimum prize money for a logo competition is $204 USD and the maximum is as high as you want. Keep in mind that the more prize money you offer , the more entrants you get which means more choices and possibly higher quality work since some extremely skilled designers may not waste their time in lesser paying contests.
3. Work with the designers and provide constant feedback – Once you have submitted your contest you will begin to see entries coming in within a few hours. 99Designs provides a 5 star rating system where you vote on the designs you like and this will let the current designers know whether they are on the right track or not. You should rate the submissions early and often because future entrants will create new designs that are similar to the ones that you rated highly
Sometimes it is clear that certain designs or designers will never get there so you can forcefully remove them from the competition.
4. Get opinions and choose a design – Once the competition comes to an end (usually after 7 days), you may get overwhelmed trying to decide on a logo when there were hundreds of submissions so I recommend that you get someone else to help you decide. Your logo will be seen by many people and different designs can mean different things to each person. Once you pay the designer the prize money they will send you the completed design along with the copyright to the original artwork. I highly recommend that you make sure you get the source files such as the mutli-layered PSD's rather than a flat JPG file. This way they can be edited or resized at a later time with no reduction in quality.
Business Cards
Once you are happy with a designer, you could ask them to create a business card design for you or you can start a new competition (another $204+) asking other designers to create a business card using your new logo.
Make sure the text isn't too small so people who don't have perfect sight can read it. You can increase the chances of the client keeping your card by making it useful. I have seen some technicians print computer shortcuts such as copy and paste on the back of their cards. The client often sticks it to their computer and when that computer breaks down, your number is right there.
You can also use your business card as a referral system. Leave a space where you can enter a clients name or internal ID and explain to them that they and their friend can get 10% off their next service if they give one of your cards to them. If you write on the card "produce this card for a 10% discount" the new client is more likely to show you and the client that referred them will get the credit they deserve.
If you are charging $60 for your first visit to that clients location, 10% is only $6. If you do a good job, you will keep that client for a very long time and make much more money off them. Isn't that worth the $6 discount?