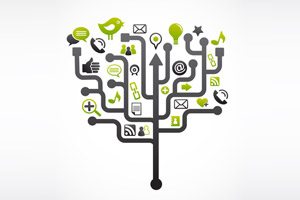 Whether we are cognisant of the fact or not, as humans we go through life building connections and relationships which fill different needs. A majority of these happen to be family ties and friendships with people we form bonds with, whilesome of these are just brought about by happenstance. Another sizable portion of these connections tend to be formed around networking; finding people with similar or common interests for the sake of expanding our knowledge base. The computer repair field brings about no lesser of a necessity to reach out and cull information from informal relationships we build over time.
Personal Learning Networks are more commonly (and formally) referred to in the realm of education. Teachers and instructors have been blogging for years about how to expand their own networking circles through these "ingenious" concoctions known as PLNs, but the concept as a whole is nothing that revolutionary.
A PLN (Personal Learning Network) is a collection of anything you want it to be, really. In the most formal sense, you structure a PLN to build ties with outlets or individuals that can provide information & insight for topics you want to learn more about. Computer repair technicians may go about this in one form or another, but likely have never thought of their outreach as being the framework for a PLN.
In my own adventure to become a better technician and ultimately to make my company FireLogic as great as it can be, I've been reaching out to various people and online venues to solidify myself in the computer repair field. Blogs, podcasts, websites, email listserves, social networking circles, newsletters, and much more. A PLN to me may be entirely different for what a PLN may mean to you. Whatever the case, take a moment to evaluate how and where you reach out for assistance. With a few pointers, you could cut your hunt for information down by half or more.
Here's my best advice when it comes to building your own computer repair PLN:

While the above avenues are my favorite aspects of a strong PLN, your personal choices don't have to stop there. Perhaps YouTube channels provide you with quality content. Or the Tumblr pages of some trusted computer techs. Maybe even a few listserves which you dug up on Google. Make use of the best, and get rid of the rest. Use the above simple guidelines for building out your PLN and see what difference it can make in your own experiences in becoming a better computer repair technician and/or business owner.