I have mentioned a lot about branding in the last couple of weeks including talking about your corporate image. Well, the new computers that you roll out should be no different. In this article, we'll show you how to brand Windows with your own logos and information.

There are a few places you can brand the operating system. The System Properties, Internet Explorer and the background. I don't recommend you change the background as it may annoy some people.
As for the System Properties and Internet Explorer, here is how to brand them:
How to brand the "System Properties" dialog
If you right click on "My Computer" and goto Properties. You will see the following dialog: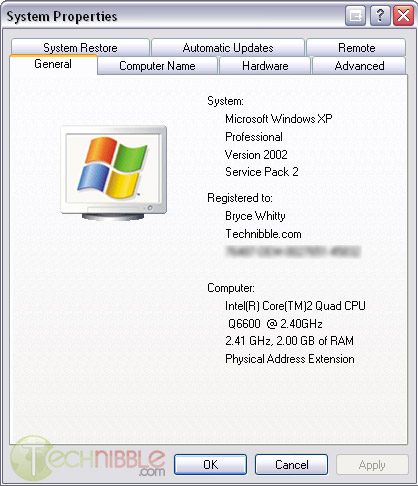 For those of you who are using a brand name computer, you may see the manufacturers logo in this area.
If you are a system builder, this is a great opportunity to place your own logo for some free branding and it may bring in some extra work down the track if they need assistance.
To place your own logo here, you should create your image as a .bmp file. It is also a good idea to create your logo with the same background color of grey as the system properties dialog (which is RGB: 192, 192, 192).
For your convenience, I have also created a blank downloadable sample here (right click > save as). The maximum sized image allowed is 180w x 120h pixels, anything smaller will be resized to this size.
Once you have created your logo, save it as a .bmp file and name it oemlogo.bmp. Then, copy it to your system32 subfolder in Windows (usually c:\windows\system32). Next time you open your System Properties dialog you will see your logo there.
You can also show a "Support Information" button that will popup with any text you like (a business name and support phone number is a good idea). To create this, download this sample ini file (right click > save as), edit it with your own text and save it to the system32 folder.
If you have done everything correctly you should see something like this: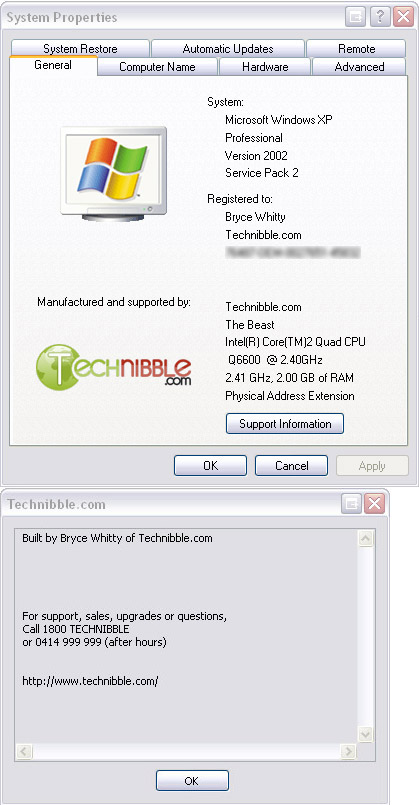 Internet Explorer Title Bar
Another opportunity for branding is in the Internet Explorer Title Bar that appears after the website title. Many ISPs will use this area to add something like "Provided by ISP Name".
To change this, Doug Knox has created a great little Visual Basic script that allows us to change it with ease. Just download this file (right click > save as) and run it. It will first ask you if you want to reset Internet Explorers title to the default. If you choose no it will give you the option to change it. Once you have written something in the text field, click OK to save the changes.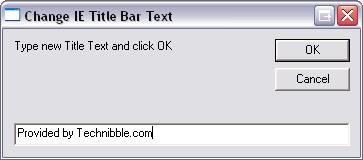 Note: I recommend that you restrict your branding to new systems only as it may annoy some people who have pre-existing computers.