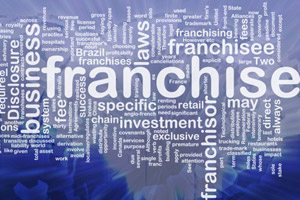 Looking to start your own business? Wouldn't it be great to jump into a business that already has a system and marketing in place? You have probably heard of the franchising model, but does it make sense the tech market? Let's take a look.

There are many advantages to franchises and one of those is branding. What's in a name? In fact there is a lot in a name and when you have a good brand with a large following; it can easily determine success of failure. If you think about all the McDonalds' restaurant all over the world, most of them are franchises. The same goes for Pizzas and other food related brands. When you walk into one of these restaurants no matter where you live, you will expect the same level of service and similar menus and prices. This system works because humans generally tend to gravitate towards what they know and are familiar with. In the technology world, franchises are not that common but the principle behind the idea still works.
Another draw to purchasing a franchise is that you are purchasing a system that is already in place. When you start a business from scratch you create the systems from scratch as well. The business system is crucial and as common sense dictates, businesses without good systems usually fail quickly. They are also less valuable because when you look to sell a business you are basically selling the business system that was created. Hence, this is a main attraction of a franchise- the one-two combo of a system and branding already in place.
Buying a Franchise vs Buying a Private Business
Franchise Principle: You want to start a business but you don't want to deal with all the marketing, research and branding. You have the capital to invest and someone is willing to help you start and give you the needed coaching. You part with your cash and set up your business as quickly as possible because you are not trying to reinvent the wheel. You start to see income immediately because you integrated a system that already works.
Startup Buyout Principle: You have an idea for a service or a product but you don't have the time to go through the process. You look around for a little company that is doing exactly what you want and you see the potential in the company and how it can be a source of substantial income. You pay a large sum of money to buy the company with its client base and you are up and running the next day. Think about Google buying Youtube.
The idea behind this is that Franchises and Buying Startups are different but the principle is the same. You get what you want by throwing money and it with the strategy of saving time and resources.
There are disadvantages to franchises and one of the foremost is the amount of money you have to spend to integrate the system. You will also be forced to follow the same pricing and marketing ideas of the parent company. If the parent company decides to upgrade, you will not have your say in how to proceed. You will also be obligated to use the same sets of providers even if there are better offers available. There is also the problem of location if you choose a brick and mortar franchise. If you have a good brand but choose your location unwisely, you will lose money and you will lack the flexibility of adapting your prices to accommodate your losses.
The Tech Market
When it comes to purchasing a franchise that offers computer services, repair, managed services, etc; my personal opinion is that it's not really worth it. Why? At the bottom of this article I listed links to some IT franchises. That is not an extensive list, but even so, I have only heard of one of them, at least in my area (Geeks on Call). I have only heard of them because I run a business and I've researched who the competitors are. However, if you ask my typical customer, or basically the average customer around here about that franchise I guarantee they would not have a clue. They are just another computer repair service.
The point I'm getting at is that one of the main draws, the branding, is kind of useless in the market where I am. The only advantage of buying a franchise in this area is getting a system already in place and a franchisee to do the marketing. However, the name (branding) just doesn't make much difference because none of those franchises listed are that well known to the customer base. This may be different in your area, so please recognize I am giving an opinion. In your market a franchise may be more beneficial, but from what I see in computer repair franchises, the branding advantage just isn't there. The question you need to ask is if the system, marketing, and branding is worth the cost of the franchise. Perhaps there may be a customer base in place, for example a business may have a contract with a certain franchise in a different city and they just expanded to your area. Opening that franchise could easily get part of that business.
Bottom line, you need to do your own research and make a decision based on what is best for you and what you want to accomplish.
In the world of business, time is of the essence. If you are not quick at adopting a methodology that works, you will likely find that you are part of yesterday's technology and will be relegated to the land of historical fascination. When it comes to franchises, there are those who feel that they are not worth it whilst others see the benefits. Like most things in business, it can go wrong and you can end up losing money. On the other hand, it can also help you become the next big thing. Remember Yahoo and Google? Remember MySpace and Facebook? These are not franchises but someone did something wrong and another got it right. Buying a franchise may get you in the door faster, but you are at the mercy of the parent company for future direction. Plus, is it worth the upfront cost for the system and marketing; are you better off creating those yourself; or if you have the cash, what about buying an existing business in your area that already has a customer base and built a good local brand?
So to answer the question if franchises are worth it or not… well, there really is no answer as it's totally up to your goals and your own situation. Due diligence is required and a franchise is no guarantee of success.
Here is a list of some computer service franchises for further information:
We would love to hear your franchise stories; please leave some comments!