Life would have been easier without choices, wouldn't it? Sure it might be dull, but at least we wouldn't have to choose, occasionally make mistakes, and suffer the consequences. It happens all the same in the IT world, where we occasionally have to choose between one and another, be it between Intel and AMD, NVIDIA and ATI, or in the case of this article; FireWire and USB.

FireWire
FireWire is Apple's name for their high speed interface standard previously known as IEEE-1394. The intention to develop FireWire was to provide a replacement for the parallel SCSI bus while also providing connectivity for digital audio and video equipment. FireWire allows multiple devices to be connected to a single adapter with blistering speed.
The earlier FireWire 400 standard is capable of transferring data between devices up to 400 Mbit/s, and allows up to 63 devices connecting simultaneously on a single controller. Additionally, the "Peer-to-Peer" architecture of FireWire also makes it possible for devices to communicate without the need of a CPU.
FireWire 800 (or IEEE 1394b) improves the previous FireWire data transfer rate up to 800 Mbit/s.
USB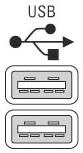 USB stands for Universal Serial Bus. It was designed primarily to replace serial and parallel ports on personal computers to eliminate the need of developing separate device drivers.
USB also allows multiple (up to 127) devices to be daisy-chained together in a single USB port using additional USB hubs, but unlike FireWire, USB needs the presence of a CPU to control the bus and the data transfer, making it less versatile compared to FireWire.
The first generation of USB has a data transfer rate up to 12Mb/s, while the later USB 2.0 standard allows up to 480 Mb/s data transfer rate.
Please note that both USB 2.0 and FireWire 800 are backward compatible with their earlier standards.
Direct Comparison
Architecture wise, the "Peer-to-Peer" of FireWire allows devices to be intelligent enough and negotiate bus conflicts to decide who should control the data transfer, while USB uses the "Master-Slave" architecture where the computer control the data flow between the attached peripherals, which adds a significant system overhead.
The peer-to-peer architecture of FireWire is not without its flaws though. It requires devices to arbitrate, which result in slower performance when more devices are on the bus. On the other hand, the USB maximum timing model is fixed and is limited only by the host-device branch (not by the entire network) and the host-centric nature of USB allows the host to allocate more bandwidth to high priority devices instead of forcing them to compete for bandwidth as in FireWire.
Nevertheless, the raw speed of FireWire is unbeatable by USB. Even the USB 2.0 standard is unable to beat the real world performance of earlier FireWire 400.
Though technically USB 2.0 is a 480 Mbit/s interface and FireWire 400 is a 400 Mbit/s interface, but many read and write tests to the same hard drive using FireWire and USB 2.0 shows that FireWire 400 is still significantly faster than USB 2.0.
Then isn't it obvious that the future lies with FireWire and it would be USB that ends up being shown the door? Unfortunately, the world works in a little more complicated way than that. Technical prowess is not everything.
Pages: 1 2