The software "Fabs Autobackup" should be no stranger to Technibble readers. We have featured version 2 and 3 as our repair tool of the week in the past and have also given away copies of version 3.
Fabs Autobackup 3 was my number one most used technician software and now Fabs Autobackup 4 has taken that place.

For those of you who dont know what Fabs Autobackup is, it is a small, portable application that makes backing up and restoring your clients data incredibly easy. It will backup pretty much anything your client would want backed up such as their My Documents folder, browser favorites, emails, address books and more to a location of your choice. I personally use it to back up my clients data to a USB hard drive, plug it into the new machine, hit restore and all the data and settings are back where they should be without all the manual work. It works on Windows XP, Windows Vista and Windows 7.
Fabrice, the writer of the software has recently released "Fabs Autobackup 4 – Tech Version". This version is specifically targeted towards Computer Technicians and has some very useful features added since version 3. The two major features of version 4 are the ability to backup up to 20 user accounts and the ability to backup drives that is not the current system drive (ie. a slaved drive). Previously, you had to switch accounts and run Autobackup for each account on the computer.
Only one caveat though, it makes it significantly easier if you name the new accounts the same as the old ones since some parts of the backup (such as the location of the Outlook database) will restore to the same username.
As for the backing up a slaved drive, in the 2 weeks or so that Fabs Autobackup 4 has been out, I have already used this feature many times. I have had a handful of clients who either had a dead motherboard and opted for me to build them a new computer rather than repairing the old one or they had a failing hard drive. In both cases, I would image the hard drive (to be safe) and use Fabs Autobackup 4 to backup the data and restore it to where it should be on the new hard drive. I know how to do all of this manually but its great to be able to do this automatically and be less likely to forget things (damn .nk2 files).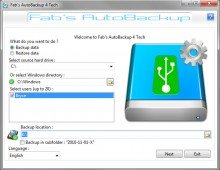 If you are into building your own BartPE / UBCD4Win boot CDs, Fabrice has also created a BartPE/UBCD Plugin version of Autobackup 4.
Fabrice understands the annoyance of draconian licensing so there are no license keys to enter or registry keys to run on every computer you use it on. It will always run as the full version with no limitations. Also, the license is not limited unlike other software. One license is valid for all of your companies technicians.
The product costs 50 EUR (about $70 USD at time of writing) and you would easily recoup that investment in just a few jobs with the time and trouble it saves. It really is a no-brainer purchase.