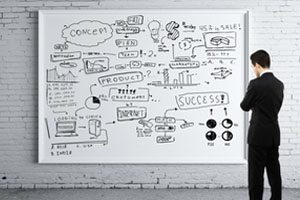 You may have used Craigslist, Facebook, Twitter, Classified Ads, newspaper ads, radio ads, and more, but just can't seem to bring in as many clients as you would like to see. Many swear by certain advertising methods, but what has been proven to be effective marketing for Techs? Flyers? Signage? Internet advertisements? I've seen proven results for 3 specific marketing methods, which I'll go into in a moment. However, before I discuss what methods worked for me, let's take a moment and look at our marketing environment.
First, before going into marketing methods, let's take a look at the potential client base. Are you marketing to a large metro area or a small town? Craigslist is unlikely to provide effective results in a small town, especially if there is no official hub for that specific community. You are more likely to get individuals contacting you for work, attempting to send checks for surplus, and then requesting money to be sent back to them, a common scam on Craigslist. However, in a larger metro area, you may see more effective results using Craigslist. I haven't personally seen any positive results with Craigslist, however, I do not live in a metro area, and I know others have had good success with it, although they also mention the attempted scams.
Secondly, the Tech industry is an industry that requires trust between client and service provider. Computing devices these days are not what they were a decade ago. More and more frequently, personal data and other high risk security information are stored on these devices, and many are not likely to trust just anyone with their personal information. They want someone they can trust, someone they can talk to, face-to-face. Business clients similarly need to see who they're dealing with. Entrusting their data with someone is an important decision that affects their income flow and profit margins. Computers are such an integral part of business now that the simple choice of who their technical support will be is a decision that could be a matter of bankruptcy or success. You need to be that person that inspires trust. That leads to our effective marketing strategies.
1. Flyers and Personal Contact
Your local printing establishment can probably print off 100 or more flyers for $15 or less. Each one of these flyers is a potential client, so this is a low risk investment with high results. I can personally vouch for the effectiveness of this method. Handing out flyers in your neighborhood, or in selected neighborhoods, puts a face on your services, and gives your potential clients a face they can trust. Be sure to take note of your appearance while distributing flyers, as the first impression is very important.
Distribute your flyers to all the local businesses you can, and simply tell them you're just taking some time to let all the local businesses know what services you offer to be of help to them, whenever they need it. This gives them something to hold on to, to refer to when issues arise with software or hardware. If your first impression was a good one, chances are they'll call you up using the number on your flyer.
2. Offer Services for Trade
If you have any local advertising agencies, offer to do a trade. For instance, if there is a local radio station, offer to provide free computer repair services, cleanups, or checkups in return for advertising packages. If you have a web design and hosting business, offer to create a website in return for advertising packages. This way both your business and theirs receive services they need, and it creates a unique type of symbiotic relationship that benefits both businesses. I can also personally vouch for the effectiveness of this method with my services.
3. Word of Mouth
This is perhaps the most important of all effective marketing methods for Techs. Make sure all your friends, relatives, and associates know what services you provide. They may know of someone who needs the services you provide, but they didn't know what you provide, and they haven't been able to refer their friend to any particular business because they were unsure who to recommend. Now that you have informed them of your services, they now know who to recommend, and you'll start getting referral clients right away.
Take a day off and drive around to all your business associates and friends, just to say hello, chat, and if the opportunity permits, drop a business card with your 'new number' or 'new email', or if your business is recently started, tell them what you're doing for work now. It usually comes up in general conversation anyway, so don't be pushy or anxious to start talking business, you'll look like a salesman trying to sell something to all his friends. I'm sure you know how to use balance and discretion here. Maybe you were running errands and just dropped by to say hi, or perhaps you had something to return that you borrowed, or maybe they left something at your house that you wanted to return.
I've provided a few tips on effective marketing that have proven effective for me, and if implemented well, will turn up business for you too. Make sure to use discretion and balance in your marketing, especially with word of mouth, and you'll be much more likely to keep those relationships and be of assistance to your associates.
What marketing has worked for you? Drop a comment below, I'd enjoy seeing what worked for you personally.