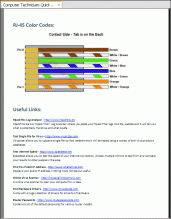 As a computer technician, there is a lot of information that we need to remember. DOS commands, BSOD STOP messages, Router passwords, IP addresses etc… and thats just to name a few. This is why I have created the Computer Technicians Quick Reference Guide. Its a PDF file with information we frequently have to keep looking up.
The Computer Technicians Quick Reference Guide Contains:
Useful DOS Commands
Common STOP Messages and their meanings
Important Data Locations
Common Router/Modem Login Details (D-Link, Netgear, Linksys)
OpenDNS.com DNS Servers
Useful IP Addresses
BIOS Beep Codes
RJ-45 Color Code Pinout
Useful Links
Freeware Alternatives
We are giving this away for FREE to anyone who signs up to our email newsletter. Technibble sends an email to you every few days with all of Technibbles most recent news and articles. Here is an example of what one of our news emails looks like:


To sign up and get the Computer Technicians Quick Reference Guide, just enter your name and email address in the form below.
We will never use your email for anything other than you receiving Technibbles news and subscriber only discounts/competitions. (we hate spam too).