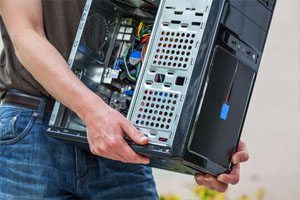 A common aspect of the computer repair business that just about all Computer Technicians have to deal with is computer parts. Whether we are building new systems, selling out of a storefront or going onsite and installing them, we all have to deal with computer parts. There are many questions about computer parts on the Technibble forums such as "How much should I charge? What should I carry?". In this article, I will answer some of these questions.

How Much Markup Should I Place On Parts?
On average, I mark up my parts about 30% more than the cost I bought it for. 10% of that goes to tax, leaving me with 20% profit.
However, I dont use a 30% markup for everything I sell. On some lower priced items my markup may be as high as 100%. For example, if I bought a special cable for $2.50, I will probably sell it for $5. If I were to use my 30% markup for everything, the lower priced items would just not be worth it. It takes time for me to go out and buy them, they take up space in my workshop and they could potentially lose value.
In any case, regardless of whether I am selling it for 30% extra or 100% extra, my prices are usually below the price of the Big Box stores anyway.
I know of some Computer Technicians who will use 30% for everything, regardless of what it is. There are also many Computer Technicians who use a scale like me. For example:
Accessories: 50-100%
PC Hardware: 30%
Peripherals: 25%
Software: 10%
There are also other Computer Technicians who will sell their computer parts at cost price citing that they make money on the service. After doing some research on these technicians, it seems that their general viewpoint is that they feel that it is taking advantage of the client. I believe that those Computer Technicians should do whatever makes them feel comfortable since it is their business, but I personally disagree with them. I think one of our forum members "Appleby" said it best in a forum post:
Look you are in business and so is every other store you walk into. Do you think the grocery, hardware, clothes or car part store sell their inventory at cost? Nope, they all mark their products up and some of them over 100%. Do you think your mechanic buys parts for you car and sells them to you at his cost? The lawn mower repair shop, A/C guy, plumber? None of them. And if they do, why? You don't know what a muffler costs him.

What I do stress out over is selling my parts at fair retail prices. For common stuff like routers, switches, etc. I sell at Staples prices since they are my only local retailer. So I try to match or beat their price. And do you know what? No one knows or cares. I tell people all the time that I've got XX here and Staples sells it for $5. They look at me like, "$5? Who cares?".

If you do your homework and shop around, you'll start finding ways to make ALOT of money on parts, all the while, still giving the customer a good fair price. Remember this: Sure your customer can go on eBay and buy the part they need, but they don't KNOW what part they need. Plus, they will end up buying some off brand knock off in Hong Kong and it will take 5 weeks to arrive and then won't be the right thing. You are making sure you are buying quality parts and getting fast shipping. Plus, as others have said, you are taking a risk….you take money out of your pocket to buy that part and set it on your shelf in the hopes that someone will come in and need it. You can't do that for free. And if you are buying the parts on a "as-needed" basis, you still need to make money. It takes time and energy.

Heck I could go on and on about this and the reason is, once I figured it out, I started seeing how much money I was loosing by not marking parts up. Plus the customers had NO idea nor showed NO gratitude for the money I saved them. They were expecting me to make money, so I should be.

By the way, my goal is to make 50% mark up. That's alot. Most items I can't do that, but some smaller items like ethernet and USB cables, I might make 600% or more. Also, items like modems, RAM, hard drives etc can be bought for 30-60% less than Staples sells them for, so there is room for a nice mark up there sometimes.
How Long Should I Warranty A Part? Should I Provide A Warranty At All?
Most Computer Technicians will warranty the part for as long as their supplier provides a warranty to them. I have seen some Computer Repair stores keep themselves out of the warranty process by making the client deal with the warranty directly with the supplier. The problem with this is that the client will most likely find out how much you bought the part for because they will either need your receipt to do it, or the supplier may include it in a packaging slip. It doesn't matter how much or how little you mark it up, it will probably annoy the client.
The best thing to do is to do the warranty yourself on behalf of the customer. You can make sure they are looked after and there isn't a bunch of back and forth phone calls when the supplier asks them for details about you.
You can also turn the annoyance of the warranty process into an opportunity. A clients hard drive may have failed and you will have go through the warranty process for them for free, but the hard drive still needs to be installed into the computer and an operating system will need to be reloaded. You can charge them for this time since most hardware warranties will only cover the hardware itself.
What Parts Should I Carry?
I have two sets of stock, one set I take onsite and the other set stays in my workshop. In both cases I generally dont carry parts that lose value too quickly. For example, a DVD Burner, Computer Case or Power Supply wont loose value very quickly, but a Hard Drive or Video Card would lose value since the speed and storage of these devices are greatly improving each day. I have found that RAM is excluded from this category because even though it is part of the "latest and greatest" race, it can actually become worth more than its original selling price when it is no longer made anymore but computers still need it. Actually, I find that I sell more RAM when gets old because the older machines that were made at the same time as this RAM are starting to feel the "software bloat" and need more RAM. Actually, DDR400 RAM (which is pretty old now) is still one of my best onsite sellers.
Anyway, my onsite parts that I sell generally consists of:
Network cable of various length – I sell many of these
USB Cables – Standard A to B. I sell many of these as well
Power Supplies
DVD Burner
Lots of RAM of various types, both old RAM and new RAM for both laptops and desktops
Low priced PCI-E video card – For office machines. I dont carry gaming cards as they lose value too quicky
AGP video card – Again, for office machines
Wireless Ethernet Router
Wireless ADSL Router + a few ADSL filters
2 or 3 Wireless USB dongles
Mouse
Various cables – USB extension, SATA, PATA, RJ-12 etc.
Front mounted Card Reader
Various cooling fans
Various software that frequently sells such as Microsoft Office, Antivirus software etc.
I also carry other stock for testing and completing various jobs such as spare video cards, hard drives, compressed air, batteries etc.. You can see a complete list of my onsite technician gear in this article. It was written 2 years ago but the majority of it is the same with the exception of the part specifications and new connectors.
My workshop parts that I sell generally consists of:
Older motherboards and CPUs – For replacing older hardware that is worth repairing
Operating System CDs – I dont carry these onsite since I rarely do an OS install onsite
A few older machines to sell
Wireless Keyboard and Mice sets – To sell with new machines
A power supply or two
CPU fans and heatsinks of various types
Everything else is either testing stock or I purchase it on an as needed basis since they can lose value so quickly. If needed, I may take something from my onsite stock as well.
How Do I Get That Promotional Material That Stores Have?
You can generally get this from either proper "Business Only" only suppliers or you can sign up as a reseller with the manufacturer. They will usually give you posters, brochures and sometimes even full blown displays.
If you have a store front, you can also put the boxes of your "in-house stock" on the shelves at the front of your store. This has two benefits:
1. It makes your store look more "full" without you holding onto lots of stock.
2. It doubles as an anti-theft system since there is nothing in the boxes.
Hopefully that answers a few of your questions in regards to parts. If you are selling a lot of hardware there you can afford to hold onto the parts that rapidly lose value. If you are an onsite technician who does mainly repair work, I recommend you hold onto the parts that either dont lose value quickly or parts that frequently like RAM.