I recently came across a really useful Computer Hardware Chart made by a member on Deviantart that helps you visually identify plugs, ports, sockets, RAM and other computer components.
Most technicians should already know how to identify many of these, but there a quite a lot of lesser known plugs and ports that I either haven't seen before or have seen, but didn't know what it was called.
I have provided a link to a shrunken down version for easy web viewing that is only 2mb in size and an extremely high resolution version that weighs in at 24mb.
Images
You can also get these graphics printed as a poster to hang in your workshop over at DeviantArt via this link.
Low Resolution Web Version (2mb)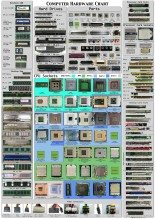 Ultra High Resolution Version (24mb)