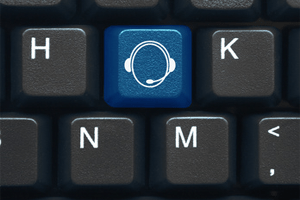 Most of your clients probably have no real difficulty using a computer, but for those with disabilities such as the advanced stages of Parkinson's, poor vision, or motor control, it can be a real challenge. How can you assist these clients to boost their efficiency with computers, and reduce the potential for frustration? Assistive Technology is the solution, but how can it be implemented?
1. Vision Disability
For those who have challenges with seeing the color contrast on their screen, most common operating systems have high contrast themes that can be automatically selected to ensure maximum visibility. Windows has high contrast themes, and themes can be customized further as well to suit each individual. OS X features high contrast and reverse video as well, and the settings are applied across the system, consistently displaying the selected contrast in each application. As far as browser application contrast themes, Chrome and Firefox both have high contrast themes as well.
Often neglected is the magnifier feature, available in both Windows and OS X. For Ubuntu users, there is a nifty app here that works as a magnifier as well. As far as having a screen narrator, Windows' narrator leaves something to be desired, but there are several utilities and web services now, many free, that can convert text to speech with remarkable tone inflection, making the voices as realistic as possible. OS X has Alex, of course, which is a decent text to speech system as well. Alex even breathes between long passages, adding to the realism. Ubuntu is also user friendly in this regard, with Espeak as the default text to speech synthesizer software.
2. Parkinson's and Motor Control
For clients in the advanced stages of Parkinson's disease, or those with motor control challenges, there are two primary options that may suit your clients. The first is switching out the common mouse design for a trackball mouse, preferably with the largest trackball they feel comfortable with. This eliminates the challenge of combining movement of the mouse with clicking the right or left buttons, and stabilizes the control of the cursor with lighter, more controlled movements, since the mouse itself stays in a fixed position.
A secondary option, which could even be used in conjunction with the first, is the Assistive Mouse Adapter, which can be found here. This technology was invented by IBM, and works as a filter on hand tremors, effectively cancelling them or negating their effect on the mouse cursor. Not only does it filter out undesired movement, but undesired clicking as well. IBM also produced a mouse smoothing program to compensate for irregular mouse movement, but it doesn't seem to work with all pointing devices, so you may have limited success with it.
Another very basic option which many clients might actually prefer is the velcro option. Charmaine Faith Gant, a noted microsurgeon, developed this idea for reducing hand tremors for microsurgery, but it can apply to mouse control as well. Placing velcro pads around the mousepad and wearing a wrist band that sticks to the velcro can solve tremor issues with the mouse, for those having difficulty with motor control.
A standard feature in Windows allows you to configure the double click speed, while there are similar tweaks on OS X and Ubuntu. There are also tweaks to keep keys from being spammed or pressed repeatedly due to motor control challenges. While it may not be available for every keyboard, there are keyguards as well which prevent more than one key being pressed at the same time due to hitting the spaces between the keys.
3. Other Assistive Technology and Solutions
With the computer screen technology of today, the risk of computing for those suffering from 'photo-sensitive epilepsy' is negligible, since modern LCD or TFT technology monitors and screens do not refresh or flicker under normal circumstances. However, if a client complains of eye strain, headaches, or other strain, there are a few tips you can show them. For instance, look away from the computer screen frequently, and focus on another object. Move around every once in a while. The brightness and contrast on the computer can be adjusted to be only as high as necessary to comfortably view the screen.
One other problem with heavy computer use is carpal tunnel syndrome. If typing and using the mouse presents a distinct challenge, and they are aware of and are using the tips for healthy computing including proper posture and position, recommend voice recognition software for the client. Most who have never used it before will get a real kick out of their computer actually translating their voice into text for them, and you'll be a hero for solving the problem for them. Here is a demo of HTML5 speech recognition that works with the Chrome browser. While the best voice recognition software solutions aren't free, they're often preferred over the pain of typing for many clients.
For other gadgets, the National Federation of the Blind is a great resource for other tech gadgets such as GPS systems, tactile graphics, cell phones, braille displays, and more, for those with vision problems. This would be a good resource if you need to direct your client to other tech solutions not related to desktop computing, but still related to mobile computing devices.
While there are other forms of assistive technology for more advanced disabilities, such as nearly complete lack of motor control or vision, most of these technologies are in their infancy. However, it may not be that far in the future when we do away with physical input interfaces and simply control computing devices with hand gestures, or even thought patterns. Brain-Control Interface, or Mind-Machine Interface systems have recently taken great strides, so this may be a nearer future than previously expected, making computing less of a challenge for those with disabilities.
Do you have any handy utilities or apps you recommend for those with computing challenges? Drop a comment below!