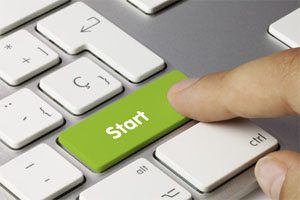 If someone told me that they wanted to start their own business then I would say go for it. I am the type of person who will always tell someone to follow their dreams. I believe it would be a horrible feeling having regrets later in life wondering what you could have done if you had followed your dreams.
However, people also need to be realistic about it before they start up. Here is a short checklist to determine whether you are the right type of person to start a business.

Do you need money right now?
If you are looking to start your own business to make money quickly, you are making a big mistake. In most cases you will be making less money for the first few years than you would have working for "the man". To those people who are working as employees for someone else, the idea of earning $70 an hour is quite attractive to them. However, they don't understand that they don't get to pocket all of that money. That money needs to be put towards advertising, petrol, rent, accountants, tax and other business related expenses. You never really earn $70 an hour.
Can you manage money?
If you are constantly finding yourself low on money when you need it, it is not a good idea for you to go into business. Managing your money isn't "just one of those things" you do in business, it is what business is all about. For every week that you earn money, you need to put a large part of it away for advertising and expenses including keeping a decent amount of money as usable funds so you can buy stock for the next week. If you cant stop yourself from treating yourself to that brand new 60 inch plasma screen with these funds because "you deserve it", just stop now.
Is working on computer all you want to do?
A common mistake that beginners make is starting their businesses expecting that they can work on computers all day without all the office politics and meetings they had with their 9-5 jobs. These people need to keep in mind that being self employed often means less time doing computer work because now you have to do tasks that would have usually been done by the secretary, the marketing department or the accounting department at your last job.
Do you have a entitlement mentality?
One of the big differences between employees working for someone else and self employed business people is the "entitlement mentality". Employees have the mentality that they are entitled to sick pay, holiday pay, overtime pay and even getting a raise if they deserve it. Their boss will look after all of it for you and put money away for their superannuation and maybe even cover some sort of health care plan which they are entitled to later in life.
When you are self employed, its all you. You are not entitled to anything. If you have to work late chances are you are probably not going to get paid any more. The self employed business owners also need to put money away during their good days so they have something to live off if they fall sick or go on holidays. No one else is going to do that for you. Getting out of this "I deserve" mentality will give you a great advantage in business.
Do you think you are the right kind of person to start a business? Do you know of anyone who has fallen into these traps?