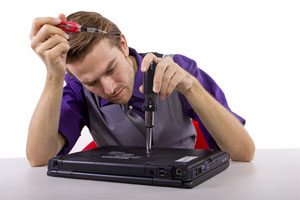 I have read a few guides on the internet that have tips on how to become a computer technician. Most of these articles tell you to work for free, get your certifications and accept any job offer. While these tips are good advice for those who want to work for someone else, they don't really apply to someone who wants to freelance. So, I have written my own tips on how to become a better self-employed computer technician.

Always Advertise. Always Test
There are many technicians out there who believe that if they register a business name, buy a few tools and put an ad in the paper they will have a successful business. This is obviously not the case otherwise there would be a lot more successful businesses.
The secret to advertising is to try different methods and test the results. I have personally spent lots of money on advertising that didn't work but if I didn't try things I wouldn't have found what works for me. If you get it right the first time you are very lucky. Don't let your first advertising failure turn you off, success is a series of failures.
Keep Advertising
Once you figure out what works for you, don't stop advertising even if you are busy. The problem with advertising is that it can take time for it to convert into work. The advertising that you placed 2 weeks ago could be the work that is making you busy today. If you stop your advertising today you may not have any work to do in 2 weeks time. Keep advertising.
Don't Work for Cheap
When you are first starting out, find out the cheapest and the most expensive price in your area and put your price somewhere in between. Too many new businesses make the mistake of pricing too low in hopes of building up their client base. While it can help, two things generally happen.
1. You get cheap clients who are not willing to spend much.
2. Its unsustainable because you don't have enough money to reinvest in advertising.
I covered alot of this in our article "Are you charging enough?".
Don't Try To Do It All
It is in a technicians nature to figure out how certain things work and to do it themselves. However, its usually a better idea to get a professional to do a job. Its like the difference between your customer getting their cousin who "knows computers" to fix their computer over your professional work. Its just not the same.
It'll take hours for you to learn how to a job correctly and you could have put that time to earning money by doing what you know best, building and fixing computers.
If you are just setting up your business, get an accountant to do it for you. If you are setting up a website, get a web developer to do it for you. Don't waste time in areas you don't know.
Turn Down Unprofitable Work
Just today I had to turn down some work that I believe would have been unprofitable. I got a call from client of my mothers business and they were having intermittent internet connectivity issues even after they had it looked at by a computer shop (who said it was fine) and replacing the modem.
Although I have fixed many problems like this before, the client lived more than an hour away and being intermittent, they are hard to fix because its hard to diagnose something that isn't happening while you are there. Also, being that this client is one of my mothers clients, I will have to treat them extra special if something goes wrong in order to protect both my reputation, and my mothers.
I have a few computers on my bench that need to be worked on and I would rather spend my time fixing those machines than driving an hour each way to a problem I may not be able to fix. Don't be afraid to turn jobs away don't think you can fix or are likely to keep occurring after your visit.
Certifications Are Not That Important as a Freelancer
Other than the human resource department of a large company, nobody cares whether you have an A+ certification. In my 7 years of business I have been asked a total of 6 times.
Your biggest selling point is your reputation and a promise of friendly and prompt service.
If you are feeling that having another certification will help you gain more clients, you should spend it on your advertising instead because that is what really matters.