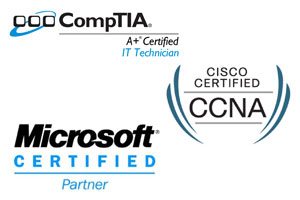 I'm back discussing the divide in the tech community with regards to certifications, I recently gave certs quite a beating with a very one sided view against, but I return today to the flip side. Despite there being plenty of reasons not to get certified there a number of reasons why you should never overlook them entirely, they may have a lot to offer, both for you personally and for your business. With just a little more thought, maybe its time to un-stack those mounting piles of books and start reading!

They're the perfect way break into the industry
If you're only starting out in the tech industry then it can often be difficult to find your feet or get your foot in the door of your first day job. I rarely reveal that I left high school with a potentially damning E grade in IT for which there are numerous reasons. It wasn't that I was bad at it, I just didn't perform well in a school environment and perhaps some blame can be left with the school due to limited resources and turbulent IT staffing issues. Either way I left school knowing I wanted to work with computers, I could work with computers, but I had nothing to show for it. The CompTIA A+ and Network+ certifications provided me with a means to showcase my skills and the self study option worked really well for me. From here I proceeded to complete Microsoft certifications. Without having made the choice to certify I probably wouldn't be where I am today.
Develop yourself and business in new ways
We often stick to certifications we're most comfortable with, those that center around the technologies we use day in and day out, hence the popularity of the MCP. But there are numerous certs out there that will help to increase your own abilities as well as provide a means to offer additional services to your customers. It's often more hard work to introduce a completely new skill but adding an additional service to your repertoire may be invaluable in propelling your business forward. Lets take Ethical Hacking for example, provided you have good technical skills, moving into the ethical hacking arena is a possibility for you. The skills might be completely new but the certification is highly sort after. Being able to offer a penetration testing service to your business clients will provide you with a strong technical image and you can certainly make very good money. Another alternative might be a Red Hat Certification such as the RHCSA, increase your own skillset and expand on your business exposure, there are a lot of mixed environments out there but very few trained people to support them.
They fill in Technical Knowledge gaps
Before making the decision to complete my MCSA a few years back I had been working as a technician for 5 years. I pretty much breathed infrastructures and related services such as DNS, AD and DHCP, but the certification helped me target my weak areas and it strengthened and improved the skills that I already possessed. My performance increased and the improvements I made to the network resulted in a pay rise and helped set my objectives for introducing infrastructure support to my business model.
Helps build confidence
Completing a difficult certification track is a massive achievement which no one can deny you, for me they helped build my confidence levels in new and profound ways which helped me in making the decision to start a business alongside my day job. Regardless of which desk I was sat in front I knew I had the necessary abilities to do the things I love doing most. I could be proud of my CV and happily hold my head high whether walking into an interview or pitching to a business down the road. I knew I could walk off the street into any business and have the experience and assessed knowledge to deal with the majority of IT issues that exist out there in the big wide world.
Show your certs to justify your costs
I'm very rarely the cheapest support tech in the area and I'm often reminded by business customers who are always looking for ways to save on their outgoings. In my early days I often felt pressured and often backed down and matched my prices which resulted in less profits and a higher degree of stress, I had no way of showing my business customers that I was better and worth the money. Sure I could show them my work right? Well most didn't really understand the work nor wanted to get too embroiled in service comparisons, they just wanted me to be cheaper. After certifying I had something on paper to show that I wasn't the average tech and that I had the assessed knowledge and skills to deal with my customers technology of choice. From that day I rarely back down and keep my prices steady, they have something validated to show them that I might actually be worth the money and very few techs in the area have anything to compare.
They're good fun
Perhaps one of the things that all techs possess is the inquisitive nature in all things IT, from the latest gadgets, network services and hardware. This often makes learning new skills in our field … fun. The words study, certification, time and money often give the whole experience a negative feel before you even begin but if you put all that aside for one moment, you'll start to enjoy learning more about new technology and improving the skills you already possess.
So there we have it, two very different arguments which will continue to be of much debate at Technibble and the industry as a whole. I for one enjoy certifications and I would recommend them to anyone, I'd get a few of my customers on an office course if I could. But having said that, there are two very successful computer business owners I know very well without a certification to rub between them. Bottom line, they're not the be all and end all in meeting your business objectives, do what's right for you and enjoy it whatever you decide.