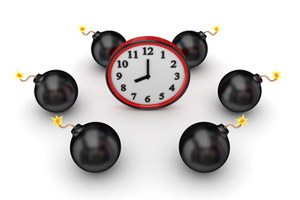 Guest Post by Ronn Hanley:
I have never refused to answer a direct question from a client, but I have been known to cringe a bit when I'm asked for recommendations about specific computer equipment, software or technology purchases.
It's a lesson that I've learned the hard way through trial and error (mostly error…). If you're in the process of starting any kind of technology based business or even just helping out a friend, it's important to realize that choices you make for yourself won't always match your client's needs.
Here are my six top reasons to always think twice when offering advice or answers to clients about technology choices.

1. Recommendations can blow up in your face
Your clients need computers or other technology devices to do specific tasks for them. Trouble is, they may only have a vague idea of what they want to do based on some Microsoft commercial that talks about how amazing the 'cloud' is. Once they ask you, the problem becomes yours to solve.
If you're at all conscientious, you'll approach the question from the standpoint of reliability, functionality, and ease of use. The biggest thing you want to do is be honest about the technology since you know that it has its upsides and downsides. As a matter of fact, a lot of what you might say to them is based on your own biases, there isn't much you can do about that, if you been working in the field for any length of time you will have developed specific likes and dislikes.
Here's where it gets difficult, your clients needs and your dislikes or likes aren't going to agree. You've developed your skills along a specific path, usually due to trial and error. When they ask about a specific computer brand, that's where the inclination to steer them away or towards a brand comes from.
It's very possible, even with the knowledge you possess, the product you 'recommend' might not suit their needs. There are many reasons for this, but ultimately if things don't work out, it becomes your problem for recommending the product in the first place. I'm not saying this happens every time, but its well within human nature to blame the person who made the recommendation.
2. There might be too hard or too long of a learning curve
Your clients are busy people. They have a business to run and they don't intend to spend a lot of time learning new software or hardware. Businesses are all about making money. They aren't making money if their staff are taking time learning the newest app or hardware gadget.
I'll be totally honest, they don't really care about new whiz-bang stuff like that. They want it to work right out of the box. They don't want long winded explanations and they certainly don't want a lot of techno babble doublespeak.
I realize this sounds harsh, but remember, you didn't get into this business to be coddled.
3. The client will have to change too much to make the software/hardware work
Sounds trite, but clients are people and people generally avoid changing how they do things. It doesn't matter that you 'know' what you are proposing will work better, that's never the point. You must to be prepared to handle this mindset. Don't believe me? Ask an older tech, I bet they'll tell you the same thing. Business owners are slow to change from what has worked for them in the past.
It's not a bad thing, it's just something you have to factor in when making recommendations and one reason that I will make sure I ask a billion questions of my client before they ever get even a small recommendation from me. I've run into clients who are upset that what I offer actually works better than their current pet machine or product. You are messing with people's ideas and emotions when you make a recommendation, be prepared for that.
4. The software/hardware solution may not work for them depending on how they try to use it
Every office runs different. If you want to see push-back, try introducing Open Office in a Windows or Microsoft Office environment. It doesn't matter that OO if free and pretty much works the same. Your clients are only worried that their documents are readable by the receiving end. And there is that pesky learning curve to consider. It's very possible that the recommendation you offer, be it hardware or software will simply not work based on how the client does business.
Internet Explorer has been the standard browser for more than 20 years. MANY Citrix, Electronic Discovery or SharePoint applications simply will not work in Firefox, Opera or even Chrome (To be perfectly honest, a lot of them won't work in IE9…). It's not your fault, it's the way the system works, so you have to be careful about any recommendations you make in this regard. And you also need to be prepared to make corrections on the fly when something doesn't work properly.
Yes, it's true that many companies are changing their back office systems, but Windows is the largest out there and that's not going to change any time soon.
5. All recommendations are subjective
Just because you had a good experience with a certain hardware or software solution doesn't mean that your clients will. It's no different than movies or food, your tastes aren't always going to be in alignment with your clients. I've had friend who swore by a certain cable company, and I've also had friend who wants to find medieval ways to destroy the same cable company.
Any recommendation you make is completely subjective, which sucks since you are just trying to do your best for your client. Be aware that your job is to think things through after asking questions. Get to know your client well before you offer anything. It's a policy I've learned the hard way and I won't change it no matter how 'simple' it might make me seem to a new client.
Trust and believe that when you get to know your clients and how they do business, you become a valued member of the team, not just some guy or girl who fixes stuff when it breaks (this is both good and bad, but I'll save that for another article). Your recommendations will still be subjective, but at least they will be flavored with solid knowledge about what works for particular clients.
6. You very seriously run the risk of losing customers
Losing customers is never a joke. It's hard on you, it's hard on them, and its hard on your bottom line.
The problem is, you can never please everyone. Think about it this way, even the worst client contact usually is nothing personal. You are a vendor, they are a client and they need you to do a job. Your recommendations need to follow the same concept. You aren't helping a friend (even if it is a friend), you're helping a client solve a problem. Treat them all as serious – I'll bet you dollars to donuts that your clients are.
Ultimately you have to determine the risks
In the end it's up to you whether or not you want to offer advice or recommendations. You know your clients and you know their way of thinking. The best advice I can offer is to be honest in your appraisals of their questions. If you don't know about something, SAY SO. A good client doesn't expect you to know everything, and if someone does, then that's not a person you need to be working for anyway.
Guest Post by Ronn Hanley: Ronn is a technology enthusiast from way back, during the dark ages of the Arpanet and the Purple monochrome monitor screens. His first computer was a Commodore PET and his first laptop was the size of a suitcase. Despite that, he loves computers and technology to distraction and has been working in the tech world for almost 10 years full time, currently as the owner of a Desktop and Network support company in Atlanta, Georgia.