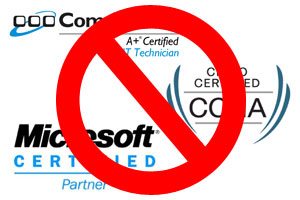 Certifications receive mixed praise and opinion on the Technibble forums and the result of any cert based thread often ends with a 50/50 split for and against. I've decided to broach this tricky topic by writing about them in a bit more detail, today I'm leaning towards the negative view of certifications and how they can be detrimental to our progress. In truth there are many reasons but I'll focus on the 5 I believe to be strong deciding factors to leave those books stacking up in the corner.
Certifications are time consuming
Industry certifications are all immensely time intensive study tracks and you only have to look at a single study guide to know what I mean, I'm quite sure some of them could weigh down air balloons or be used to build solid structures. The point I'm making is that we're all exceptionally busy with our businesses, if we're not with customers we're working to get customers and if we're not doing that we'll perhaps improve processes, add to the website and maybe if we're lucky we can sit down with family and friends for five or ten minutes. How on earth do we squeeze so much information into our heads when we have so little time to do so. Cert advocates will quickly rise and tell you that you can take your time and spread it over the weeks ahead, my view is that if you stretch out the study and learning process to much you'll soon start forgetting the first few chapters especially if you're not putting in time to do the exercises.
Customers don't care about industry certifications
The biggest kicker of course is that in the tech repair industry our customers couldn't care less about our certifications, in my entire IT career I've only had one person ask and I could tell they wish they hadn't. In truth customers have enough to worry about in getting their computers up and running, they don't want to have to interview you first. That's fair enough but again it begs the question, why get certified? This issue resonates with business customers as well, if you've got a reputable business, the experience and perhaps some form of reference then other businesses will often welcome you in to do work on their networks with little thought for actual paper proof.
Things can get expensive
Getting certified doesn't come free of charge of course; costs can start to mount up depending on your chosen method of study. The cheapest way is to buy the official books, read them, then buy and sit the exam. Let's take a typical entry exam the 70-680 Configuring Windows 7 by Microsoft Press at $36.91 from Amazon then the exam cost of about $100, you're already down $136.91 for one exam and that's assuming you pass the first time. However its more common practice to purchase the book alongside your preferred learning method whether that's training videos, online training or perhaps classroom training for potentially $100s possibly $1000s of dollars. If you're lucky enough to be in a day job that assists with your training costs then this might not be a huge concern, for the majority though, we'll continue feeding customer profits into the training schedule.
Choosing the right certification is difficult
With hundreds of certification options available, choosing the most valuable cert for you is often a difficult endeavour in itself. Having chosen such a varied career path how do know which will provide the most value in the short and long term? It's often a difficult one to answer not being able to see your own future, typically we've no choice but to train in the technologies we're use right now, hello Microsoft.
Most Certifications need to be upgraded
After giving up most of your spare and parting with your well-earned cash you may be forgiven in thinking you can take a rest or have a prolonged study leave to concentrate on your core day to day goal of building your business. Sadly most vendor led certifications have a shelf life; these days technology and particularly software can develop, upgrade and grow at tremendous pace often leaving your well-earned Microsoft status far behind you. To learn someone has an MCSE status may at first sound impressive until you realise it was achieved some years back on Windows NT. The certification upgrade process can be a deeply depressive thought, more time and more money.
Certifications can be stressful
Treading the path towards certification can be a difficult and stressful process. You're trying to run a business, support a family; perhaps you have a social life? (If you're lucky) These things can be quickly affected by choosing to lock yourself away for hours of self-study which ultimately affects you personally. Sometimes with combining aspects of your life, having to squeeze in study and certifications is an exceptionally stressful process, you would be forgiven for not opening those pages.
Nobody said certification was easy but is the hard work really worth the pay off? Do you really get enough return for the investment in time and money? As usual, your views and thoughts are greatly appreciated, please comment below.
On to part 2 of this series: 6 Reasons Why Techs SHOULD Get Certified