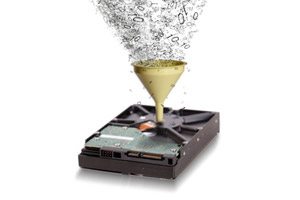 No matter what may happen to a customer's computer, the one thing they always want to ensure is that their data is safe. A recent survey by cloud storage provider Carbonite solidified these beliefs quite well. 50% of those surveyed said they would rather give up vacation time than lose precious data; a full 38% said data was more precious than their wedding ring. And here's the kicker: 62% said they would pay to get their data back in the event of a disaster. If you happen to be their trusted computer repair tech, that means you're 62% likely to be getting that urgent phone call.

The stats on small business backups aren't faring much better, and the contradictions in thinking by these SMBs is just mind boggling. Another survey by Carbonite points out that 42% of small businesses are using flash drives as a preferred backup method, yet only 6% see the technology as reliable. Even worse, a full 1/3 of those surveyed claimed to be still using CD or DVD backups yet 62% of those considered the method to be very risky (it begs the question: how does that make sense?) In the end, the survey found that 1 in 5 small businesses didn't even know how much data they had which means they have no way of picking a proper backup solution.
As trained technicians, we need to reverse the mentality behind how customers think about their data. Instead of contemplating their actions in a worst-case scenario of possible data loss, we should be preparing them for these situations with solid backup routines and proven technology. I've been stressing the need for good online and/or onsite backup for my FireLogic customers since my company's inception, and you should be doing the same for your customers.
There are various trains of thought as per what a "solid" backup routine entails. Guest writer William Conner endorsed his 3-2-1 plan of data backups in an article surrounding cloud storage. He wrote, "Keep three copies, the primary data and two backups, store the backups on two different media, cloud, magnetic, optical, etc., and keep one copy offsite."
PCMag.com had similar advice but with a few differences in approach, namely to separate your system files from your data files and to be certain to complete a full backup at least once a week to a standalone, external medium. Whichever approach you take with your customers should be suited to their needs and limitations while keeping cost concerns in mind. As the trusted repair technician, it's ultimately up to you to make sensible recommendations.
Here are my top 3 ways to bring customers into the fold with backup routines that can save their rear ends:
Compare the cost of routine backups vs disaster recovery.

Numbers never lie, and customers love to see the dollars and cents behind decisions they are making. If any customer of mine balks at the cost of a routine online backup plan, comparing it to how much a single instance of disaster recovery costs is always an easy way to make logical ROI sense of the situation. I happen to partner with Seagate Data Recoveryfor time sensitive, intricate recovery needs and the starting price for even looking at data recovery runs no less than about $500 USD per incident. Tack on multiple hard drives and these numbers start multiplying easily.

In contrast, a customer in this predicament could have opted to use an online backup service, like my favorite Crashplan, and had their entire business system backed up for around $100 USD or less per year. And not to mention the turnaround time on plan B is much faster, which means less lost business in the end as well. It's a no-brainer. But customers don't always think rationally like this without professional insight. If a customer still opts for the route of using a professional recovery service in case of disaster, then at least they made a conscious informed choice with the proper input. And in the event that such a situation does occur, you have full ground to refer back on in case the blame game ends up in your court.

Defeat the nuisance factor by recommending nag-free technologies.

The Carbonite studies referenced above made the case that many people choose not to backup because of how cumbersome and time consuming traditional backup methods are. We all get it – the path of least resistance is always the one most heavily traveled. In this case, however, we can't let laziness win the day. There are so many great solutions to fill this void it would be a disservice as a computer repair technician to not at least be aware of their pros and cons.

The most obvious choice these days for home and business users is still online backup from the likes of Crashplan (my favorite) or SugarSync. The nice part about all of these cloud storage systems is that they share a common nicety: ease of use and a set-it-and-forget-it approach to backups.

Depending on the needs of your customer(s), you will have to determine which one offers the most bang for the buck and features that are necessary.For small to midsize businesses, cloud backup alone could become a strain on a limited internet connection or when the raw amount of data needing backup is larger than usual. For these situations, I've been recommending RAID-enabled NAS boxes for years such as the QNAP TS-259 Pro+ which can be picked up for about $500 USD (plus the cost of two hard drives of your pick).

For half the price of a decent server, you can have a RAID enabled storage device that sits on the network and can receive backups at off-hours from all devices that need protection. The box doesn't need routine maintenance or licensing like a traditional server and sips 1/5 the electricity of what its big brother does. In combination with a solid backup program like the freeware Cobian, a customer can backup an office full of computers without lifting a finger. It's a solution that works well and is relatively cheap.

These aren't the sole alternatives out there to basic external hard drive or flash drive backups. But they do represent the easiest solutions that I've come across, and have successfully defeated the "but it's too much work" argument every single time.

At the least, get your customers using Google Drive-like products.

Even your best argument and most cost effective solution will come face to face with die hard skeptics and change-wary customers. If they flat out refuse to adopt a proper backup routine, the least you can do is to get them onto a half-decent regiment of utilizing cloud storage apps like the newly released Google Drive or Dropbox. Google Drive is the most attractive product of the bunch thus far since it offers 5GB of storage and seamlessly integrates with many peoples' already established Google Apps or Gmail accounts.

As long as they remember to save their work inside of the accessible folder that is backed up by the service, they are set. Better yet, if they are avid Google Apps or Gmail users, they may even consider giving Google Docsa try – since those files will never ever touch the physical PC in the first place.I wouldn't consider these failsafe backup routine as the notion of leftover files in other parts of the system comes into play, but in the end: it's better than nothing, and costs $0. If their data means less to them than the effort required to log into a simple program like Google Drive, then they've got nothing to lose after all.
There it is. I've outlined 3 ways that you can get customers into a backup routine that will give them varying levels of protection and security against known hard drive failure. I'm not here to say that my methods are the best or most fool proof. What I am more concerned about is reducing the number of people who have no means of backing up their critical data. That mission starts with us, the computer repair technicians, solely and squarely. Let's educate and inform our customers and let them make the decisions that they see fit.
If you've got suggestions for solutions or points you use when talking about backups with customers, please share them in the comments area below. We'd love to hear your thoughts!