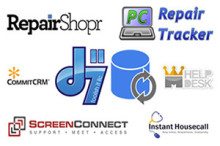 When I created the new Computer Business Kit version 3, my goal was to deliver so much value that it simply pays for itself over and over. You have already seen a glimpse of the computer business forms and their PDF versions in my last post.
The Business Kit has lists of parts suppliers, marketing templates and stock photography. All of this is designed to save you time. Now I want to show you how the Computer Business Kit v3 will save you money.
I have complied a list of some of the top computer technician products that the new Business Kit has coupons for. It includes the name, the full price, the discounted price and how much you saved. Check it out: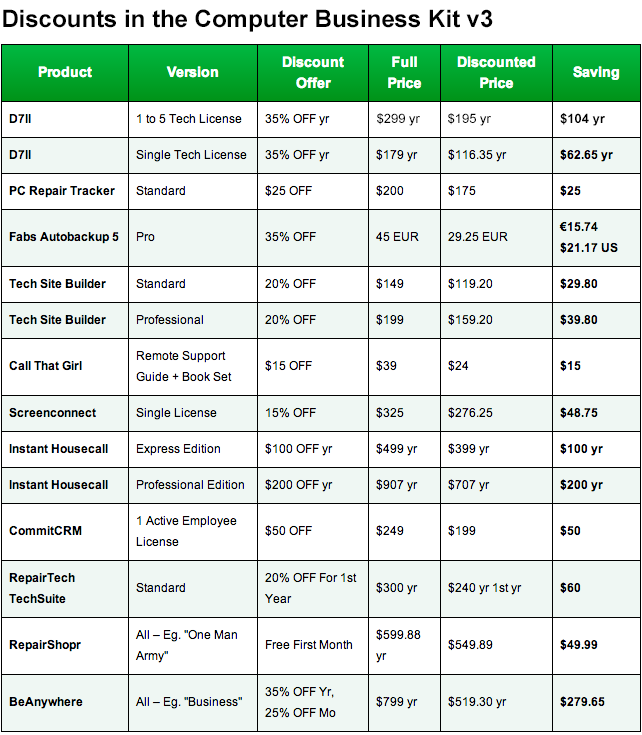 With the savings you get with some of these products, its almost like getting the Computer Business Kit for free. With some products like D7II, this is an exclusive discount and there is currently no other location offering a discount this deep. Additionally, this discount of 35% OFF is per YEAR, not just a once off. If you purchased the D7II 5 Tech license and used it for 5 years, you would have saved a whopping $735.
The Instant Housecall discount is also per year so if you were with Instant Housecall for 5 years on the Professional plan, you would have saved $1000!
If you had your eye on any of these higher ticket items and you bought the Computer Business Kit v3 first, you would be ahead instantly; and it would only take a few of the lower priced items to have totally made your money back.
Even if you already have your paperwork, systems, legal and marketing sorted, I believe the discounts alone makes the Computer Business Kit v3 worth the $99 sale price (and the $29 upgrade price for version 2 owners).
The Computer Business Kit v3 will be released very very soon. If you would like to be emailed when it is released, please let us know your email address on THIS PAGE.
Read full article...