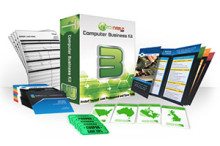 In the past few weeks on Technibble, I have shown you how you can fill and sign the Computer Business Kit forms on a tablet, as well as how much money you can save on computer technician products.
Well today I am extremely happy to officially announce the release of the third version of our popular product, the Technibble Computer Business Kit version 3!
This kit was designed to help technicians protect themselves and save a ton of time and money. Whether you are just starting out or a seasoned professional, you will find value the Computer Business Kit.
Protect Yourself and Your Business
Lets face it, there are a lot of things can go wrong while working on a clients computer. Often the issue isnt your fault or it was a simple mistake that could happen to anyone. Its a good idea to protect yourself by having signed documentation with computer business specific terms and conditions that outlines what happens in certain events and limits your liability.
The Computer Business Kit has over 30+ computer business specific legal forms including maintenance contracts, work orders, computer pickup and drop-off forms, data backup checklists, tablet repair forms and many more.
Systemize
Forms such as the "data backup checklist" and the "computer drop off/pick-up forms" also allow you to systemize your business so you dont forget about that clients essential file when formatting their computer, or know exactly what they dropped off at your location to avoid any costly arguments. You can print these forms on paper or if you prefer, fill and sign them on a tablet. Its up to you.
Get More Clients
Most computer technicians really know their stuff when it comes to anything technical, but sometimes struggle when it comes to design. Take advantage of our beautiful marketing templates so you can start getting new clients sooner. We also include high resolution computer technician related stock photography to use in your marketing materials instead of having to pay a stock photography site.
Stop Paying Consumer-level Prices for Computer Parts
Everyone knows about the consumer-level stores to buy computer parts at, and you are usually paying consumer level prices. But where are actual computer businesses buying their parts? Where are the computer stores getting the bulk discounts? We include a list of business-to-business computer parts suppliers in the United States, United Kingdom, Canada and Australia.
Save a Ton of Money
We have also negotiated massive discounts on computer technician products with various vendors including D7II, PC Repair Tracker, Fabs Autobackup 5, RepairShopr, Screenconnect, InstantHousecall, CommitCRM, mHelpDesk, TechInLine and more.. Many of the discounts exceed the cost of the Business Kit itself!
To celebrate our launch, we are also offering our "How to Start a Computer Business" eGuide with the Computer Business Kit. This bonus will only be available for a limited time though, so grab it while you can.
Even with all this value, the Computer Business Kit v3 is only $99 USD and we have a 60 day, money-back satisfaction guarantee. So there really is no risk to you.
Version 2 Owners: You are eligible for upgrade pricing and should have received an email from us on how to upgrade. If you didn't receive this email, please let us know by emailing support@technibble.com or use our contact form and let us know the email you believe you used to purchase the Business Kit.
Read full article...